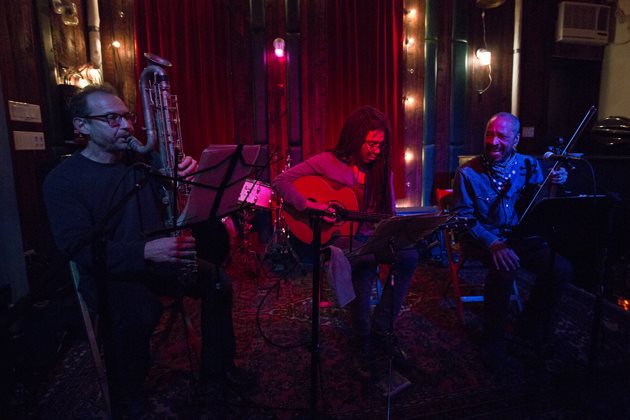 DOORS @ 7:30 / SHOWS @ 8PM, UNLESS POSTED OTHERWISE 
PROSPECT LEFFERTS GARDENS • BROOKLYN
•• now serving beer and wine
---
RSS
2023
Adam Levy's Mint Imperials • Morley & Chris Jan 5

7:30 Door 8:00 Show $12.00 suggested donation

Morley and Chris Bruce create global, earthy, ethereal stories in praise of courage, vulnerability, resistance, dignity and love. Joined by bassist Ross Gallagher and Yuval Lion, drums.

Adam Levy & the Mint Imperials (Adam Levy – vocal & guitar; Andy Hess – Fender bass; Tony Mason – drums) specialize in story-songs, chock full of dreamy realism. The band's groove swaggers and sways collectively, as they play with familial telepathy. Levy is probably best known for having been in Norah Jones band for her first three albums. He is also featured on recordings by Allen Toussaint, Tracy, Chapman, Amos Lee, Ani DiFranco … Bassist Andy Hess was in Gov't Mule for several years, and has toured with Robben Ford, John Scofield, Graham Nash … Drummer Tony Mason has played with Charlie Hunter, Paula Cole, Jim Campilongo …

"Even the thorniest jazzbo snobs can recognize Levy's potential to pen material for the next Great American Songbook." —Offbeat magazine

Ambient Pasta presents Weeze/teasea • ros • Rain JohannesJan 6

7:30 Door 8:00 Show $12.00 suggested donation

 

Weeze/teasea is a collaborative performance between brothers Dan and Tom Criblez's solo projects. Weeze(Dan Criblez) has created music exploring ambient, art pop, and experimental genres. He expresses through nostalgic and emotional melodies using instruments and sounds like piano, synth, creative beats and samples. teasea creates ambient guitar music for moments of solitude and friendship with a goal of reaching a sense of calm and center. This past year he experimented with a 3 album summer solstice release, curating a days worth of music for listeners to embrace the longest day of the year. The 2 collaborate often on each other's music but this is the first set combining the nature of both their worlds into one performance.

 

Curious to explore the balance between authenticity and creation, the magic of sound found ros at the early age of 4 with classical piano. Painting from the quietude of inner thoughts, inspired by the exploration of memory and love, blended with early influences of classical, jazz and indie soul music; ros quickly discovered the power of expression through music and storytelling.

In the fall of 2016, Rain Johannes spent two months in his bedroom recording ten songs he wrote as a junior and senior in high school. On November 4th 2016, those songs were released as his debut album "Sunshine." To celebrate its 6-year anniversary, brothers Dan and Tom Criblez will join Rain in performing "Sunshine" in its entirety and as faithfully to the original recordings as possible. Plus, falling only a day after Rain's 26th birthday, guests are sure to expect a night of celebration, reminiscence, and beautiful music. We will see you at the Owl on January 6th!

 

Jean Rohe // James Shipp Jan 7

7:30 Door 8:00 Show $12.00 suggested donation

Songs from the 74 Corridor" is a new memoir concert by songwriter Jean Rohe. In it, she traces the length of the NJTransit #74 bus line (Paterson to Newark, NJ) with stop-specific songs telling family stories about life in the cities that shaped her and her forebears: a route and a root. Featuring Caroline Davis (saxophone, voice, electronics), Christopher Tordini (bass), Jason Burger (drums). "74 Corridor" is sponsored, in part, by the Greater New York Arts Development Fund of the New York City Department of Cultural Affairs, administered by Brooklyn Arts Council (BAC).

The James Shipp Music Band is exploratory and interactive, American and outer space, acoustic and electronic; it showcases mostly instrumental compositions and a few of James's (famous) songs. It is occasionally Brazilian, and populated with players who will admit (if pressured) that they are jazz musicians.  James has been a vibraphonist, percussionist and synthesist in NYC for 20+ years.  He is a member of the Grammy-nominated Anat Cohen Tentet, Miho Haza's M Unit, and travels currently with Anat Cohen's Quartetinho. James plays Vic Firth sticks, Balter Mallets, and Zildjian cymbals exclusively.  

The band: JS – vibes, synthesizer, percussion, vox; Chris Parker – electric guitar; Mike LaValle – electric bass; Bill Campbell – drums

Maya Tsou AFTERNOON SET Jan 8

4pm

19 year old singer Maya Tsou comes together with guitarists Owen Pattillo, Mitch Owens, bassist Stevie Howard and drummer Leonardo Tapia to commemorate her birthday in a personal selection of indie favorites. Not dissimilar to the soundtrack of an early 2000's coming-of-age film, these songs come from artists Regina Spektor, Blur, the Yeah Yeah Yeahs, among others. The sound is nostalgic and electrifying, with an undeniably grunge, DIY-attitude. 

Leslie Mendelson • Amy Helm Jan 8

7:30 Door 8:00 Show $20.00 adv / $25.00 cash at the door

Leslie Mendelson is a Grammy Award-nominated singer/songwriter. Her most recent album, 'If You Can't Say Anything Nice…' is out now.  Described by Relix Magazine as an artist with "a loyal, cross-generational audience that hugs the hippie, hipster, coffee shop and society crowds." Leslie had collaborated with legends such as the Grateful Dead's Bob Weir as well as Jackson Browne on the duet "A Human Touch," for the documentary '5B,' which is also included on his 2021 Grammy nominated album, 'Downhill From Everywhere.' Leslie recently opened for The Who for three nights on their current tour The Who Hits Back and supported Roger Daltrey for his 2022 UK solo tour.

Amy Helm's third album, What the Flood Leaves Behind, is her most autobiographical yet, both in content and creation. Released in June 2021 via Renew Records/BMG, these 10 songs represent a gathering of ideas and experiences, friends and collaborators. Yet, the album also marks a landing — a pause for the traveling musician and mother of two young boys who was seeking clarity in her calling and career.After making multiple albums and performing in far-flung places, Helm returned home to Woodstock's Levon Helm Studios — casually known as The Barn — just before the pandemic to record What the Flood Leaves Behind and reclaim a sense of self. The Barn became what Helm calls "the tuning fork" for the record. Helm sings stories of life's relentlessness. But like she extrapolates from "Verse 23," the most productive, and often the most healing response, is to create. As a result, What the Flood Leaves Behind serves as a defiant form of self-expression, as Helm steps fully into her own light. 

Levon Henry Presents, Jan 12

7:30 Doors 8:00 Show

$12.00 suggested donation

The saxophonist/songwriter Levon Henry hosts a collaborative monthly residency, with a different cast and structure every show.

Benji Santos • Miriam Elhajli • The Cradle Jan 13

7:30 Door 8:00 Show $12.00 suggested donation

      

Miriam Elhajli is a Venezuelan-Moroccan-American composer and vocalist whose work is influenced strongly by the folkloric musics of South and North America, modern jazz, and contemporary classical music. A graduate of Berklee College of Music, she currently lives in Brooklyn where she performs (on the side of the road or otherwise), and is a researcher at The Association for Cultural Equity founded by Alan Lomax. 

The Cradle is the musical project of Brooklyn artist Paco Cathcart. Paco has been part of the DIY scene in New York for a decade now, constantly writing and recording albums, playing in a variety of groups (see: Climax Landers, Shimmer, Sweet Baby Jesus, Eyes of Love), touring consistently, and engineering for other artists and bands.

 

Ross Martin and Grant Gordy • Jacob Joliff & Wyndham Baird Jan 14

7:30 Door 8:00 Show $12.00 suggested donation

 

Brooklyn, NY duo Grant Gordy and Ross Martin's recording Year of the Dog brings together two of acoustic music's most forward-thinking virtuoso guitarists, both of whom have deep backgrounds in the American musical vernacular. The duo, born of impromptu musical meetings and jams, honors its birth in spontaneity with plenty of seat-of-the-pants soloing as well as some elaborate two-guitar arrangements. Improvisation, fluency in different styles, and thoughtful arranging are also hallmarks of some of the bands in which Grant and Ross have previously made their marks (David Grisman Quintet, Matt Flinner Trio).

Jacob Jolliff grew up just south of Portland, OR. He was awarded a full scholarship to The Berklee College of Music in Boston in 2007. Shortly after graduating from Berklee, he won the National Mandolin Championship. In 2014, he joined the progressive bluegrass group, Yonder Mountain String Band. He toured with YMSB until the end of 2019, releasing two albums with them. This year he has been touring with Béla Fleck's My Bluegrass Heart, as well as his own group, The Jacob Jolliff Band.

Tomas Fujiwara & Mariel Roberts • Alta 4tet Jan 15

7:30 Door 8:00 Show $12.00 suggested donation

 

The Brooklyn-based Fujiwara/Roberts duo brings together two artists who are active performers, improvisers, and composers working in the field of new and experimental music. On cello and drums, the duo weaves together their individual backgrounds in jazz, classical, and experimental music through improvisation.

Praised for their "fiery" and "faithful" performances of contemporary repertoire, Brooklyn-based ALTA 4TET is a collaboration of four committed players who prioritize exploration, excellence, and curiosity in their performances. ALTA is: violinists Gabryel Smith and Rachel Hauser, violist Emily Bookwalter and cellist Ken Hashimoto.

Crosslegged, Elizabeth & the Catapult, Oropendola

7:30 Door 8:00 Show $15.00 suggested donation

OROPENDOLA'S SINGLE + MUSIC VIDEO PREMIERE SHOW!

 

Joanna Schubert, the Brooklyn-based singer-songmaker-keyboardist behind Oropendola, creates kaleidoscopic chamber pop filled to the brim with energy and emotion. Her songs often sound like a wink but hit like a gut punch, pendulum-swinging from playfulness to earnestness with deft, technicolor brushstrokes. She has been a touring member of Half Waif and Barrie, sung with Samir Langus, and currently plays in Brooklyn-based Nicomo and beccs. The band for this show will include Elizabeth LoPiccolo on harmonies/flute/synth, Gabby Sherba on harmonies, Nico Osborne on guitar, Derek Weaving on bass, Mike Gebhart on drums/drum machine, and Tree Palmedo on horns. Oropendola's debut album will be out in the spring.

Elizabeth Ziman, who performs as Elizabeth and the Catapult, is a Brooklyn-based critically acclaimed singer/songwriter. She's toured with the likes of Sara Bareilles and Kishi Bashi; collaborated with Esperanza Spalding, Gillian Welch, Blake Mills and Ben Folds; scored, with Paul Brill, international award-winning documentaries, and won an Independent Music Award for Songwriting, Folk category. Her songs have been featured in national television campaigns, and she most recently wrote music for Sara Bareilles' new Apple TV show, "Little Voice." Always writing, Elizabeth has narrowed her vast collection of previously unrecorded material down for her fifth full-length studio album "Sincerely, e" which she self-produced and was released on Compass Records in 2021.

Crosslegged is the project of singer-songwriter-producer Keba Robinson. Born in Norristown, PA and raised between Pennsylvania and California, her musical inspirations span folk, experimental pop, post punk, indie rock and soul. She grew up in a Jamaican household where the sounds that filled the air ran the gamut of roots reggae acts like Burning Spear and Third World and singer-songwriters like Carole King and The Mamas and the Papas, which developed her original love of singing and pure melody. Keba's early days as Crosslegged were inextricable from the creative community that she built with friends through fests and art shows. She's excited to release a new album called Another Blue on January 27th, 2023.

Layale Chaker / Timo Vollbrecht's Fly Magic

7:30 Door 8:00 Show $12.00 suggested donation

  

FLY MAGIC is a genre-exploding band with a bold sense of creativity and intent, led by Brooklyn-based saxophonist and composer Timo Vollbrecht. It fuses jazz with post-rock, electronics, and melody-oriented instrumental songwriting. After two acclaimed records and performances in over 30 countries, their third album, Givers & Takers, marks a new chapter: It conjures acoustic delicateness with otherworldly soundscapes of orchestral width. With this stellar line-up, Timo is presenting his vision of a band that is truly original, avoids easy categorization, is warm-timbred, melodic, atmospheric, and unpretentious.

Timo Vollbrecht – sax,  Elias Stemeseder – piano & synths,  Vinícius Gomes – guitar, s Jason Burger – drums    www.fly-magic.com

Layale Chaker's Radio Afloat is a reflection on the intertwined destinies of people and the natural world, which manifest even louder in times of collective pain; a commentary on the ebb and flow of politics of power and conflict that further the vulnerability of the land and those who tend to it. Conceived as a suite of intersecting movements, it echoes "The Trace of Blue Passion", a poem by Lebanese author Ounsi el-Hage:

"… And just as birds flock wisely / I trekked from ocean to ocean / From peak to branch / From night to night to night.."

With Jake Charkey, cello – Phillip Golub, piano – Sam Minaie, bass – John Hadfield, percussion.   https://www.layalechaker.com/

Evangeline Young • Camille • Eliza Edens Jan 21

7:30 Door 8:00 Show

Camille Schmidt is a Brooklyn based songwriter.

Evangeline Young is a singer-songwriter and actor originally from outside of Philadelphia, now based in Brooklyn. Growing up acting and playing music in a family of folk musicians, Evangeline discovered her profound love for telling stories when she was a young kid, and she's been doin' it ever since. Her music ties in sounds from indie, folk, country and rock genres with an emphasis on vulnerable storytelling through her lyrics. She released her first EP, "Splinters", in August of 2018. Evangeline is currently in the process of recording/mixing her upcoming record "As Long As We Can See," which she began recording in November of 2020 at the Black Lodge Audio Studio in New Hampshire. In March of 2022, Evangeline opened for Glen Hansard and Marketa Irglova's band The Swell Season at the Beacon Theatre in New York City, and again at The Anthem in Washington D.C.

 

Born and raised in rural Massachusetts and currently living in Brooklyn, NY⁠, Eliza Edens weaves together disparate influences of people and place into her work to create mesmerizing sonic tapestries with guitar and voice. With a love for tinkering with alternate tunings à la Nick Drake, a curious harmonic ear from years of childhood classical piano lessons, and an ever-expanding affinity for words and stories, Edens' songs build a kaleidoscopic world that documents the parallels between hope and heartbreak. The resulting sound is a diverse palette of guitar-based, experimental folk-rock centered around Edens gently cradled voice and brimming at the edges with pockets of sonic whimsy. Edens is due to release her sophomore album We'll Become the Flowers on October 14th.

Mariel May, / Atlantic Collective Jan 22

7:00 Door 7:30 Show $12.00 suggested donation

New York native Mariel Mayz is a sought-after composer, pianist, educator, and administrator. She has been commissioned by American Opera Projects, the Hunter Opera Theater, Latin Grammy nominee João Luiz, and many others. Mariel is an Adjunct Professor of Music Theory and lecturer for the Arts Management & Leadership Certificate at CUNY Hunter College and pursuing a PhD in Composition and Theory at Brandeis University. She serves as the Co-Founder and Associate Director of Porto Pianofest based in Porto, Portugal. She will be presenting the music from her debut album Cuban Sketches for Piano, which was released in September 2022 by the ZOHO music label. The album features premiere recordings of the piano music of legendary Cuban composer Leo Brouwer, as well as original compositions and arrangements.

Atlantic Collective is an adaptive, flexible chamber ensemble performing concert music that explores social and cultural themes. Formed during the COVID-19 pandemic, each musician has worked collaboratively or professionally with one another in various classical, contemporary, and pop music settings. As an ensemble, Atlantic Collective seeks to invigorate classical and contemporary repertoire by performing works from around the globe that illustrate our common humanity. Atlantic Collective's varied instrumentation allows for performances to be a multi-sonic experience, drawing the listener in with an array of voicings and textures on a single program. Tonight, the collective

 presents "Mixtape", a collection of short works and movements in a variety of instrument configurations reflecting the mood of the times. It's like your iPod shuffle has started working again and has come to life in concert form.

JP Schlegelmilch • Andrew Munsey

7:30 Door 8:00 Show $12.00 suggested donation

 

JP Schlegelmilch is a pianist, composer, and improviser originally from New Hampshire now living in Brooklyn. Since arriving in New York he has performed with a wide range of musicians in the jazz and experimental music world. His 2019 album "Visitors" with drummer Jim Black and guitarist Jonathan Goldberger was widely acclaimed and mentioned on Rolling Stone's "Best Jazz Albums of 2019".  For this new acoustic trio JP has written music exploring churning minimalist textures, boogie-woogie, and classical counterpoint. 

Drummer Andrew Munsey leads a quartet of musical brothers featuring Ochion Jewell (saxophone), Amino Belyamani (piano), and Sam Minaie (double bass). Munsey's music navigates the modern and geometric contours of groove while making room for free exploration along the way. His work has been described as "rich in invention and unexpected twists and turns" (San Diego Union-Tribune), displaying a "robust individuality both as a player and composer." (All About Jazz). 

Rachel Sumner / Brittany Ann Tranbaugh Jan 27

7:30 Door 8:00 Show $12.00 suggested donation

   

With songs as sweet and biting as the nectar and venom in her voice, Rachel Sumner has been captivating audiences throughout the northeast with her Boston based string band, Traveling Light. While their instrumentation and textures show roots deep in bluegrass and traditional folk music, Sumner's lyric-forward writing and penchant for snaking chord progressions demand something beyond folk conventions, highlighting the acrobatic range of her brilliant bandmates Kat Wallace (fiddle/harmonies) and Mike Siegel (upright bass).

Brittany Ann Tranbaugh is a songwriter from Philadelphia, PA. Her queer country song "Kiss You" won Song of the Year in the 2021 John Lennon Songwriting Contest.

Katy the Kyng• Jesse In Gray • Wish Wish Jan 28

7:30 Door 8:00 Show $12.00 suggested donation

 

Katy the Kyng is a February Aquarian who believes in the guitar solo, the love poem, the snide aside, the double entendre, the prom dress, and the journey to the center of things. She hopes to combine all of the above in her work.

Jesse in Grey is the songwriting project of Brooklyn based multi-instrumentalist Jesse Bielenberg. One could call his music folk, or rock, or even slowcore, but he likes to think of it as comfortcore. Jesse has two EPs under his vegan leather belt, with songs ruminating on trees & television & domesticity & growing up & the grey in-between spaces of uncertainty. Jesse will be joined by Connor Parks on drums/percussion, & Daniel Durst on bass.

WishWish features the songs of drummer and vocalist Rachel Housle.  Reaching into the space between the abstract and the familiar, pop melodies mingle with country-inflected slide guitar and a punk spirit.

Michael Sarian / Amir El-Saffar Jan 29

7:30 Door 8:00 Show $12.00 suggested donation

 

Trumpeter and composer Michael Sarian has been praised for his "unique compositional and instrumental voice… reminiscent of [his] lyrical contemporaries such as Ralph Alessi, Ambrose Akinmusire or Avishai Cohen." (Friedrich Kunzmann, AAJ) Born in Toronto and raised in Buenos Aires, Michael relocated to NYC in 2012, and has performed at some of the most iconic international stages, including the Montreux Jazz Festival, the Kennedy Center, Teatro Colón in Argentina, the Blue Note Jazz Club, Jazz at Lincoln Center, BRIC JazzFest, and Central Park SummerStage. He has appeared on WNYC's Soundcheck with John Schaefer, NPR's World Cafe, and many more.

Amir ElSaffar has been described as "uniquely poised to reconcile jazz and Arabic music," (the Wire) and "one of the most promising figures in jazz today" (Chicago Tribune). ElSaffar has created techniques to play microtones and ornaments idiomatic to Arabic music that are not typically heard on the trumpet. He is also one of the few musicians in his generation to master the centuries-old Iraqi maqam tradition, which he performs actively as a vocalist and santur player, merging it with contemporary Western harmony. ElSaffar has received the Doris Duke Performing Artist Award, a US Artists Fellowship, and a Hodder Fellowship at Princeton University.

Zahra Alzubaidi • Leila Adu Feb 2

7:30 Door 8:00 Show $20.00 suggested donation

 

Zahra Alzubaidi is a New York based Iraqi vocalist who performs a variety of Arabic styles, with a focus on Iraqi music. She has performed as a featured artist in multiple music venues throughout the US, and as a guest/chorus with ensembles.

Leila Adu is an astonishing force in the space where electropop, avant-classical and singer-songwriter meet. Exploring her roots in New Zealand, Britain and Ghana, Adu is an international artist who has performed at festivals and venues across the world. Compared to Nina Simone and Joanna Newsome by WNYC, Adu has released five acclaimed albums, and has given visionary solo BBC and WQXR performances. Adu's credits include Ojai Music Festival, Bang on a Can, the New Jersey Symphony Orchestra, Late Night with David Letterman, and composing for a Billboard charted album. Adu holds a Princeton University music composition PhD. In 2022, Leila Adu–Gilmore has been awarded a Charles Ives Composer Fellowship's from the American Academy of Arts and Letters.

Alec Spiegelman, Izzy Oram Brown, Good Intentions Feb 3

7:30 Door 8:00 Show $12.00 suggested donation

   

Alec Spiegelman

is a multi-instrumentalist, producer & songwriter living in Brooklyn, NY. He will be improvising, on clarinet & with pedals, in conversation with a piece of software called the Echolaliator, by Eric Rosenbaum. Alec says, 'here's Eric's explanation of the software: 

https://www.ericrosenbaum.com/echolaliator

and here's me playing along with it:

Izzy Oram Brown is a Brooklyn based guitarist and songwriter who released her debut record Mess on September 23, 2022. Created with a host of collaborators in various spaces around New York over the past two years, Mess finds Oram Brown drawing on her work as a guitar player and her love of the folk song tradition to create her first project as a songwriter. She pairs introspective lyrics and winding melodies with layered guitars, synthesizers, and percussion to create an ethereal and moving body of work. Grounded in precise songwriting and embellished with experimental production, Mess is Oram Brown stepping out from a supporting role and sharing an assured album of naked honesty.

 

Good Intentions is a fuzzy five piece instrumental rock band that sends you heartfelt melodies, like a mixtape made for your high school crush. They release their first single, "Songe" on February 3rd, from their upcoming album release, "Devotion Comes Easy to Me."  Sam Decker: saxophone. Gregg Belisle-Chi: guitar. Franky Rousseau: guitar. Luke Bergman: bass. Dave Flaherty: drums  

Colin Babcock • Nick Pauly • Gregory Michael Jordan Feb 4

7:30 Door 8:00 Show $12.00 suggested donation

   

Nick Pauly is a violist, composer, and improviser from Brooklyn, NY. After completing his M.M. from Manhattan School of Music, he served on faculty at the Third Street Music School from 2015 to 2021. A contemporary music enthusiast, Pauly focuses on extended techniques for strings, including performance with household objects and alternative tunings. Recent work features structured improvisation for singing bowls, waterphone, and viola.

Colin Babcock is a Trombonist, Composer, Improvisor, and Teacher living in New York City, originally from Columbus, Ohio. He regularly performs most genres of music, including classical, jazz, pop, electronic, free improvisation, and everything in between. He has performed with the Stormin' Norman Band, Park Avenue Chamber Symphony, So Wrong It's Right, SEM Ensemble, Brownstone Brass Quintet, various musical theater shows, numerous big bands and brass bands across the city and more. His 2020 album "Circle" and other original music encapsulates his diverse influences. He is a teacher with the Brooklyn Conservatory of Music in the Music Partners division.

Gregory Michael Jordan writes and records orchestral pop out of his bedroom. Live, he is accompanied by a five-piece string and wind ensemble who bring his lush and sweeping arrangements to life. Songs about epilepsy, Judaism, and professional wrestling are all brought to you with a stunning combination of piano, orchestra, and uninhibited vocal affectation. Greg bounces between universes, going from imagining up fictitious characters to touching on the deeply personal. After a decade of playing shows and recording preliminary demos, Greg is releasing his first studio album in 2023. February 3rd at The Owl, Greg will be celebrating the release of his first single, Prom, as well as his 29th birthday.

Maya Carney • Agrol Agra: A quartet • Frank London's ¡No Pasarán! Feb 5

7:30 Door 8:00 Show $12.00 suggested donation

    

 

Maya Carney is a Brooklyn born and based vocalist. Maya enjoys working in artistic environments rooted in a variety of musical  and performative traditions such as jazz, house, r&b, improvised and contemporary classical music.  She primarily roots her practice in her spirituality, letting her music act as a form of release and personal expression before a performative act. 

 

Agrol Agra: A quartet (Deborah Carmichael, Kinga Cserjesi, Marisa Michelson, and Margot B. Silver)  sing selected pieces from their a cappella program, Ágról Ágra, from Branch to Branch. Ágról Ágra is a program of unaccompanied choral pieces by Béla Bartók, as well as Hungarian traditional songs including new arrangements by the talented young Korean composer, Song Yi Jeon. Enjoy the magical world of modal music. This program honors the memory of Béla Bartók

 

Frank London's ¡No Pasarán! 

is a brass trio plus percussion that blurs the borders between chamber & folk music, composition & improvisation, Jazz, latin & world music, traditional to avant garde. The group features London on trumpet, trombonist José Davila, tubist Ben Stapp, and conguero Onel Matos. 

London

is co-founder of the

Klezmatics

 and has performed with John Zorn, LL Cool J, Mel Torme, Lester Bowie

's

 Brass Fantasy, LaMonte Young, They Might Be Giants, David Byrne, Jane Siberry, Ben Folds 5, and 

is featured on over 400 CDs.

 Called the "mystical high priest of Avant-Klez jazz" 

 

Sean Kiely • Kitba Feb 9

7:30 Door 8:00 Show $12.00 suggested donation

"Your Logo, My Logo has that quiet earnestness of an alt-folk record. Kiely's sense of humor shines through, though. He's able to call attention to some of the absurdities of our modern lives without resorting to "Put down your phone. Stop and smell the roses." simplicity. Kiely is a clever songwriter, an excellent guitar player; and he's given us an excellent 21st century folk album." – Cool Dad Music 

Nicomo • Jackie West • Scout Gillett Feb 10

7:30 Door 8:00 Show $12.00 suggested donation

 

Brooklyn-based Scout Gillett joins the Captured Tracks roster and shares her first release for the label: the title track of her debut EP one to ten, out April 29th, 2022. The five-song collection consists of four covers—of Broadcast, Blaze Foley, Ferrante & Teicher, and Brenda Lee—alongside the hypnotic original "one to ten,""

Jordan Tyson • John Cushing • Lily Talmers Feb 11

7:30 Door 8:00 Show $12.00 suggested donation

 

Jordan Tyson (vocals) is a choral nerd turned music and theater fairy on a mission to heal. As an actress, she has worked all over the country— in the Netflix limited series The Chair and the film Vampires Vs. The Bronx, and in the theater as Young Allie in the world premiere of the Notebook Musical and Kizette in LEMPICKA to name a few. Musically she grabs from theatre, folk, r&b, & pop. Audelco Rising Star Award.

 

Lily Talmers is a Michigan-born, Brooklyn-based artist and band leader of a new age of Americana. Her lyricism draws from heady 60's folk revivalists as Leonard Cohen and Judee Sill, coating Midwestern-accented melodies with intimacy and refined wit. These melodies provide a unique journey into Lily's strange intervallic insides, informing themselves by Greek, Lusophone, and classical music, in addition to the Americana cannons. Her latest record, "Hope is The Whore I Go To" was captured live, full band, and features stylistic nods that unbind genre. Its twin record, "My Mortal Wound," features a live, largely solo version of Lily's sound. 

 

John Cushing writes songs, and writes music that attempts to clarify the longing embed in human joy and suffering. Arrangements range from small ensembles to a 19-piece big band, and the music is about community; drawing on the mutual witness of vulnerability and humility within an audience. The musical stylings of such ensembles celebrate a diverse network of folk traditions, centered in the Afro-European styles of the Americas but also reaching specifically to music of the Balkans, and the Romani Diaspora in Europe. The Lyricism is succinct and direct, and you will be left with a clear understanding of why, but a collected curiosity—humming and wondering—of how. His latest recording is a live record of heart songs and folk arrangements you can find on Bandcamp: John Cushing Big Band, "Live at Magnolia Loft."

 

 

Closed for Nat'l Safety Pup Day Feb 12

7:30 Door 8:00 Show $12.00 suggested donation

special Valentine's Day show with Ember • The Point Feb 14

7:00 Door 7:30pm Show

The Point is a synchronized live performance of the entire Harry Nilsson opus with the charming film projected on the Owl's new theater-size screen.  A perfect date!

Ember is Caleb Curtis, Noah Garabedian & Vinnie Sperrazza 

Eleanor Buckland • Louisa Stancioff Feb 16

7:30 Door 8:00 Show $12.00 suggested donation

Singer songwriter and guitarist Louisa Stancioff, backed by her bandmates Dave and Dan Kelly, is quickly establishing herself as one of the premier musical artists in Maine. Her intelligent and soulful writing pairs with a confident and catchy indie sound drawing on folk, rock, pop, and her own Bulgarian heritage. She has toured across the country with her previous band Dyado, and is now beginning on a whole new soundscape venture with this solo project. You can listen to Dyado anywhere, and keep an ear out for her debut LP, which will be released next summer. 

Eleanor Buckland made her start as one-third of Lula Wiles, the Boston-based folk-rock trio that became an acoustic music scene favorite with their three critically hailed albums. Now living in Brooklyn, the singer songwriter has turned to a different side of her musical interests as a solo artist. Buckland's debut album You Don't Have To Know (released October 2021 on Soundly Music) sets her deeply personal songs against inventive indie rock arrangements.

zannie • Cosmo. Feb 17

7:30 Door 8:00 Show $12.00 suggested donation

  

zannie is the project of singer-songwriter zannie owens, who is thrilled to be joined by their friend zoots houston on pedal steel for this event. they'll perform songs mostly off of zannie's debut LP 'How Do I Get That Star', which was released in august 2022 AD.

Cosmo is the instrumental project of Jesse Harris (guitar/composer), with Jeremy Gustin (drums), Will Graefe (guitar), James Buckley (bass) and Shahzad Ismaily (keys). All the music will be from a new, forthcoming album, produced by Shahzad.

Ali Dineen• Jefferson Hamer • Fellow Pynins • Feb 18

7:30 Door 8:00 Show $18.00

online sales have closed but tickets are still available at the door starting at doors /  7:30 pm

  

Ali Dineen is a poet-composer born and raised in Queens, whose lyrics are poetic and deeply personal, and highlight the intersections between personal experience, larger histories, and systems of power. Ali has performed at the Museum of Art and Design, the Caramoor American Roots Music Festival, the American Folk Art Museum, and the Brooklyn Folk Festival, among other wonderful venues, and was awarded the Helene Wurlitzer Foundation Residency in 2020. Ali is also the music director for local puppet troupe extraordinaire The Boxcutter Collective, arranges music and sings with Reverend Billy & the Stop Shopping Choir, and is part of a duet with the inimitable Feral Foster. Ali released a third album, Hold On, in 2020, and is currently working on a new piece about Joan of Arc.

Jefferson Hamer is a guitarist, singer, and songwriter from Brooklyn, New York. He has toured and recorded albums with Anais Mitchell (Child Ballads, winner of a BBC2 Folk Award), Sarah Jarosz (as guitarist and harmony singer on her Grammy-nominated Blue Heron Suite), and Session Americana. The Murphy Beds, his long-running traditional folk duo with Eamon O'Leary, has released two self-produced albums, about which the Huffington Post wrote, "[the album] bears repeated listening from start to finish, with ten beautiful, crystalline songs." His original songs and lead guitar work are featured on Alameda, an acoustic and electric collaboration with bassist Jeff Picker and drummer John Fatum, featuring special guests from the NYC folk community and beyond.

Fellow Pynins embody the music they make. They travel the world with their two children collecting old songs and connecting with the generations who still sing them. Reworking the old ballads, they create a sound that can easily sit alongside the music that comes through the pen of their own hand. This is the band that you never knew you needed in your life. So soak in the stories and as Lisa Dunn from BBC says, let the music "transport you into their haunting and beguiling world of love tales and spine-tingling harmonies… They will have you traveling far and wide to hear them again."

Hank Roberts • Mike McGinness Feb 19

7:30 Door 8:00 Show $12.00 suggested donation

The Hank Roberts Trio with Aruán Ortiz on piano and Matt Wilson on drums will be performing their world premier concert at The Owl in Brooklyn, NY on Sunday evening February 19th, 2023.   Over his 5-decade musical career, Hank Roberts has shared stages and recording studios with some of the most celebrated musicians in the world. He has forged a compelling original voice as a cellist and composer, and is considered a major innovator as an improvisational cellist. Of his collaborators, critics say, "There are few more dazzling drummers working today, but almost nobody in Wilson's peer group with a broader grasp of jazz or a more natural sense of time…" – Nate Chinen  JazzTimes.  "One of the most creative and original composers in the world, pianist Ortiz is an experimentalist and a tonal provocateur influenced by European modernism and contemporary jazz as much as by Afro-Cuban tradition." 

Mike McGinnis celebrates his 50th Birthday by playing some of his music from the late 90's with some of the musicians who helped create it.  

Featuring Mike McGinnis: saxophone/clarinet • Ravi Coltrane: saxophones • Jacob Sacks: piano •  Dave Ambrosio: bass • Tom Rainey: drums

 

 

Hasumi/Ishito/Togami • Stephen Becker • GADADU Feb 23

7:30 Door 8:00 Show $12.00 suggested donation

    

With a kaleidoscopic sense of time and texture, GADADU weaves odd-meter grooves, synth-spiked orchestral arrangements, and unorthodox song forms into a dreamy, soulful sound. Founded in 2013 by Hannah Selin (voice, viola) and Nicki Adams (keys/synths), GADADU also features the sounds and talents of bandmates Patrick Adams (trumpet), Ayumi Ishito (tenor sax), Daniel Stein (bass) and Arthur Vint (drums). GADADU has released three full-length albums: The Weatherman Is Wrong (2022), Outer Song (2018), and And I See Night (2015). Their new album moves between the natural and the supernatural, staying true to their live sound while traveling through expanded soundscapes of strings, field recordings, synths, and vocals.

Lou Roy • Market • Helenor Feb 24

7:30 Door 8:00 Show $12.00 suggested donation

     

Lou Roy's debut album Pure Chaos might well be a little magical. The LA singer-songwriter had been getting deep into chaos magic, and she found that embracing the forces of chaos worked pretty well for her art. On the album's opening track and lead single "Valkyrie", Roy sings: "Chaos reigns, all is permitted" — a reference to a core tenet of chaos magic. "I found that to be such a profound little couplet, because it gave me creative freedom. There's nothing that I can do wrong; everything that I could do is okay." She used that newfound liberation to create an extraordinary debut; one where unconventional musical constructions and irreverent lyrical ideas add up to a rousing celebration of life

Helenor is the musical moniker for Brooklyn-based visual artist, songwriter and producer, David DiAngelis.  The DIY debut LP Something Twice was written, recorded, and produced at home, as well as self-released.  Something Twice has since found support from notable publications such as The Line of Best Fit, Birp.fm, David Dean Burkhart, and more.  "Channeling the likes of Deerhunter and Beck, Helenor captures a moment with blissful indie pop" – The Line of Best Fit

Katie Martucci • Akie Bermiss Feb 25

7:30 Door 8:00 Show $12.00 suggested donation

 

Katie Martucci is a tall lady in Brooklyn, singing as much as possible and just trying to get good at music, ya know? Her latest release 'Note to Self' on La Reserve Records is a collection of songs about the "unspoken third thing in the room" — stories surrounding friendship, family history, imposter syndrome, her own personal journey with epilepsy and more. With Devon Yesberger (piano) Jacob Matheus (guitar) Dan Pappalardo (bass)

Akie Bermiss is affable, near-sighted, hirsute, and a nerd of the highest water. Nevertheless, he has also somehow managed to cultivate and live a double-life as cool and *very* hip musician. His favorite thing to do is write (and, subsequently, sing) songs about aliens and spaceships and falling in love.

CLOSED for National Customized Wheel and Tire Day Feb 26

all day

Closed for International Cat Rescue Day

all day

Bonomo • Adam Neely • Guitar Hearts Mar 3

7:30 Door 8:00 Show $12.00 suggested donation

   

BONOMO  is an Indie acoustic outfit that pulls at the heart strings with symphonic resonance and a distinct take on Indie-Folk music. Influenced by the sounds of Folk, Jazz, Gospel and Classical music. BONOMO is a melting pot of true artistry and the finest pioneering genres of all time. On a mission to unify musical tradition and audiences alike, the ensemble is set of visionaries inspired by the sounds of yesterday while simultaneously crafting a resonance all their own. 

Band Practice is an improvisational collective that plays jazz fusion, rock, funk and electronic music. Adam Neely, Josh Bailey, Shubh Saran and Eitan Kenner explore new modes of musical expression through completely improvised sets based on audience input. 

Guitar Hearts is a group of emotional virtuoso jazz musicians led by Yoav Eshed, who fill audiences worldwide with awe and admiration with their captivating energy.  The performance invites the listener to a fascinating journey of soundscapes derived from jazz and romantic-era melodies, ranging from highly energetic to the most delicate and slow moments.
Created by a duality of relaxed harmony and rhythmic intensity, Guitar hearts play with open heart, deep groove and brilliant execution.    … "Gifted musician with emotional depth and brilliant technical abilities" Mick Goodrick

Mike Haldeman • Momentum Mar 4

7:00 Door 7:30 Show $12.00 suggested donation

Momentum is a New York based collective united by the joy and freedom of jazz communicated through the sounds that pulse along the airwaves of today and tomorrow. Their sound is mystic, kinetic, clear and deep – uplifting and inspiring its listeners.  Momentum recently released their first two singles, Aséna and Scream, which has been met with great excitement. The Collective has performed at such notable festivals and venues, WildflowerFestival 2022, Bar LunÀtico, and the Sō Percussion artist series Brooklyn Bound.

Luke Marantz • Matt Marantz Mar 5

7:30 Door 8:00 Show $12.00 suggested donation

The Choir Invisible • Gregg Belisle-Chi Quartet

7:30 Door 8:00 Show $12.00 suggested donation

Yesterday & The Undoing • Jim Keller • Lost Leaders Mar 10

7:30 Door 8:00 Show $12.00 suggested donation

    

Yesterday and the undoing' is gabby sherba's solo project. She draws inspiration from plants, elements, cycles, light, darkness, color, and threshholds. Among other muses. Her songs wish to share with you the questions she has about it all.

 

A cult figure in the music business, Jim Keller's gigs at The Rockwood Music Hall are legendary. If the best players in town aren't on stage with him, they are in the audience, singing along, playing along, making the sort of noise that would get you locked up in a lesser town.
But at The Owl, Keller will do something that he rarely does: Play a solo, stripped-down set. Granted, his collaborators Adam Minkoff (producer of Keller's newly released album, Spark & Flame) and Byron Isaacs (Keller's songwriting partner and member of Lost Leaders) are likely to be on hand, but this is a rare chance to hear Keller do his most personal work in Brooklyn's most intimate music venue.

 

Lost Leaders is the decade-old magical collaboration of Byron Isaacs (The Lumineers, Ollabelle) and Peter Cole (Lava Baby, and now acting in the NYT Critic's Pick Hannah Ha Ha) who met as jazz musicians and grew into rock musicians together, recording their first Lost Leaders album at Levon Helm Studios in Woodstock. They each write, each sing and for this show they'll be backed by their powerhouse drummer, Hudson Valley's Lee Falco (The Lemonheads). Lost Leaders debuted on the Americana charts last year with "Long Way Down" and their radio hit "I'm Gonna Win" continues to rack up Spotify adds as new fans discover their psychedelic-guitar, monster-harmonies goodness.

Kolker/Ammann/Menares/Kronreif • Michael Bates' Northern Spy Mar 11

7:30 Door 8:00 Show $12.00 suggested donation

 

Featuring Adam Kolker on saxophones, Sebastien Ammann on piano, Pablo Menares on bass and Peter Kronreif on drums, this new collective has been diving deep in each member's compositions and will be presenting new compositions written with this group in mind.

Michael Bates' Northern Spy

Michael Blake-saxophone

Josh Deutsch-trumpet 

Santiago Leibson-piano

Greg Joseph-drums

Michael Bates-bass

 

Take one listen to the joy and energy of this unpredictable band and try not to get caught up in the excitement.    Northern Spy's rough-and-tumble interplay makes everything an option.  They veer happily between wide open jazz, the swing tradition and heavy grooves.  An organic and soulful quintet of long time New Yorkers who play with intensity and fire; they take the blues and manhandle it into unexpected musical shapes.  

Phillip Golub Quintet • David Adewumi May 11

7:30 Door 8:00 Show $12.00 suggested donation

Pianist/ composer Phillip Golub performs Abiding Memory with Alec Goldfarb, guitar, Daniel Hass, cello, Sam Minaie, bass and Vicente H. Atria, drums

 

David Adewumi, trumpet, will appear with Adam Olszewski, bass & Jongkuk Kim, drums

 

Ethan Iverson trio w Thomas Morgan & Eric McPherson

7:00 Door 7:30 Show $12.00 suggested donation

 

Ethan Iverson has played with the Bad Plus, Billy Hart, and the Mark Morris Dance Group. His current release is Every Note Is True, his first for the Blue Note Label, released to critical acclaim in early 2022 and cementing Iverson's place as "a master of melody" (DownBeat).

Dana Lyn's Baby Octopus • Brian Prunka & friends Mar 16

7:30 Door 8:00 Show $12.00 suggested donation

Brooklyn-based musician Dana Lyn is at home in a wide range of musical genres and has worked with Tony Award-winning musicians Stew and Heidi Rodewald, actor-directors Ethan Hawke and Vincent D'Onofrio, D'Angelo and the Vanguard, 2017 MacArthur Fellow Taylor Mac, Bruce Springsteen, the Elysian Fields, Irish poet Louis de Paor, guitarist Kyle Sanna, Killer Mike and the Walkmen. She has received commissions from Brooklyn Rider, A Far Cry, Palaver Strings and the National Arts Council of Ireland. Also a visual artist, she has created album art for four of her albums and stop-motion animations in support of her music. Baby Octopus will play music from her most recent release, "A Point on a Slow Curve. Joining her are Michael McGinnis on clarinet, Sara Schoenbeck on bassoon, Gary Wang on bass and Noel Brennan on drums.

 

The emphatic melodicism of Brian Prunka's music (oud, compositions) is the thread that connects his jazz background and his nearly 20 years in NYC's Arabic music scene. He first fell in love with the sound of the oud during his musically formative years immersed in the jazz community of New Orleans, and those two threads continue to be a source of inspiration. Lending their talents to his music for this performance are musicians who likewise have a foot in two (or more) traditions: cellist Eric Allen, sax/clarinet/nay player Gideon Forbes, and percussionist Philip Mayer.

Scree Record Release Show • Martin Nevin Mar 17

7:30 Door 8:00 Show $15.00 adv / $20.00 Door

 

Martin Nevin will perform solo. His set will explore music from both his upcoming collaboration with producer Ari Chersky, and from his album, Tenderness is Silent. 

Brooklyn trio Scree (Ryan El-Solh – guitar, Carmen Rothwell – bass, Jason Burger – drums) celebrate the release of their debut LP "Jasmine On A Night In July" with an expanded lineup featuring Greg Sinibaldi (bass clarinet, sax), Ivan Arteaga (clarinet, sax), Kristina Teuschler (clarinets) and Willem de Koch (trombone). They will be performing music inspired by the poetry of Mahmoud Darwish.

Claire Ozmun, Damon Smith & The Cradle Mar 18

7:30 Door 8:00 Show $12.00 suggested donation

 

Damon Smith is a New York City based pianist, songwriter, and improviser. He's a graduate of the New England Conservatory of Music. His debut solo album, "Intimate Machinery," came out on ERASED! tapes in December 2017. His second album "God of the Grid" came out in March 2019, which prompted NPR's Here and Now to state: "excited for what he has next." The "River of Regret" EP followed in November 2020. In 2022 he started the band The Brightmares with his brother Brendan Jacob Smith, and their first album "When the World Gets Fixed" was released in June of that year. 

Zosha Warpeha • Ocelot • Ochion Jewell Quartet Mar 19

7:30 Door 8:00 Show $12.00 suggested donation

 

Zosha Warpeha is a composer-performer working in a meditative space at the intersection of contemporary improvisation and folk traditions. Her long-form compositions explore transformations of time and tonality on Hardanger d'amore, a sympathetic-stringed instrument closely related to the Norwegian Hardanger fiddle, alongside her own voice. Her current work is informed by the cyclical forms, rhythmic elasticity, and the physical momentum of Nordic folk music. 

Brooklyn-based trio Ocelot (Cat Toren on piano; Yuma Uesaka on clarinets and saxophone; Colin Hinton on drums and percussions) interweaves the patience of Contemporary Classical and the restless spirit of Free Jazz with an attention to deep listening that verges on sound sculpture. Ocelot's music aims to balance insistent, cerebral minimalism with earthy melodicism, and a sublime commitment to the moment honed by years of engaged improvisation. As a testament to their group improvisational chemistry, Nate Chinen (WBGO) states that "their interplay suggests a life of its own" upon listening to their 2021 eponymous record,

Having met at CalArts – where studies ranged from Ghanaian Ewe and Persian classical music to improvisation with Charlie Haden and composition with Wadada Leo Smith – and moved to Brooklyn together in 2009, Ochion Jewell, Qasim Naqvi, Sam Minaie, and Amino Belyamani explore a wide diversity of free and structured improvisational settings. Their recent album, VOLK (with special guest Lionel Loueke) was widely heralded for blending folk elements around the world through a wide array of dynamic settings, ranging from free jazz, traditional jazz, contemporary/new music, rock, North African, and several others, while emphasizing "emotional depth, breadth, and dynamic exhilaration" (Bud Kopman, All About Jazz). 

 

 

Hayfitz Farewell Show w carol and h. pruz Mar 23

7:30 Door 8:00 Show $15 adv/$18 *cash* door

 

More Than a Goodbye, the debut album from New York-based artist Carol, started the day that a lot of things ended. On March 13th, 2020, Carolyn Flaherty and her band at the time were driving from New York City to Boston for a show that proved to be their last before the entire world shut down. As the world stopped completely, Carol suddenly had more time than ever to write, reflect, and grow artistically and as a person. In late 2020, she released Soiled, an EP that captured her traversal through inner turmoil to be on the precipice of something new and, hopefully, beautiful. More Than A Goodbye feels like the answer to Soiled's cliffhanger: A mature but cathartic testament to love in the future, present, and past tense that features Carol's brightest and most realized songwriting to date.

h. pruz is the solo project of Brooklyn based singer-songwriter Hannah Pruzinsky (they/she). h.pruz released their debut EP "again, there" in late 2022 via Oof Records.   The collection of songs is a front porch with wind chimes sounding; a nap on the couch on a summer afternoon; a pair of dirty hands in compost, letting dead things turn into something richer, kinder.  h. pruz expects to release their first full length album in late 2023

A self-proclaimed purveyor of 'gentle folk' Hayfitz crafts delicate songs about the most delicate of subjects. Fresh off of his self-produced 2020 debut, Capsules, the Brooklyn based multi-instrumentalist is now deep into a second full length record exploring the complex journey of coming into his new-found queer identity.

The Ἔrιs Quartet • Wendy Eisenberg Mar 24th

7:30 Door 8:00 Show $12.00 suggested donation

 

The Ἔrιs Quartet,

(Amina Knapp and Maya Irizarry-Lambright, Violins; Felix Veser, Viola; Daniel Knapp, Cello)  formed in 2022 at the Oberlin Conservatory Advanced String Quartet Seminar. They have been mentored by Sibbi Bernhardsson of the Pacifica Quartet, Kirsten Docter of the Cavanni Quartet, and members of the Verona Quartet. As advocates of new music in the growing classical world, The Ἔrιs Quartet will be touring a new program: "Paintings, Songs, and Dances" during the Spring 2023 season. This tour starts in their home of Ohio, with performances in Cleveland, Grafton Prison, Downtown Oberlin, and Lorain County Hospitals, and then will continue throughout a larger East Coast tour through Pittsburgh, New York City, Philadelphia, and DC.  The name, Ἔrιs, comes from the Greek Goddess of Chaos, a symbol of the quartet's commitment to new a changing landscape of music and collaboration.

Wendy Eisenberg is performing mostly unreleased songs for voice and classical guitar as a glimpse into what will be their next record.

Michael Rocketship •Ben Kamen • Matt Mehlan Mar 25.

7:30 Door 8:00 Show $12.00 suggested donation

 

Hailing from a small hamlet on the western seaboard called Los Angeles, Jean Marie is a lyrical singer-songwriter who has wowed both her mother and various roommates with how softly she can sing. Her quiet guitar playing is envied worldwide by baby spiders and cotton balls. Her gentle approach and intrepid spirit has brought her to stages as far away as Japan, Australia, South Korea and Vietnam. Jean Marie is a seasoned vet of playing bar shows in the US where drunken converts have slurrily compared her to Neil Young, Yo La Tengo and Young Marble Giants.

 

Over the past two decades, Ben Kamen has created music for a variety of formats and genres — from chamber music to multi-channel sound installations to folk and post-rock.  His 2022 album, "Watershed," his first collection of new songs in over a decade, is an exploration of timbre and memory inspired by daily walks through the temperate rainforest near his home in Olympia, WA.  

 

Michael Rocketship is a keyboardist/composer/improviser living in Brooklyn, NY. He spends time leading his own groups (Michael Rocketship, CavityFang, Visuals) or playing, recording and touring in a wide variety of other people's projects (Ben Goldberg, Dida Pelled, Sam Evian). When not playing keyboard instruments, Michael works as a recording engineer at Figure 8 Recording.

Scivic Rivers & Aisle Knot March 26

7:30 Door 8:00 Show $12.00 suggested donation

Aisle Knot is a four-piece band from Brooklyn, New York. They hope to make exciting, resonant music and enjoy the unique thrill of the live setting. Their debut full band album is due out later this year.

Scivic Rivers is the new musical nom de plume of American singer-songwriter Randy Bickford (fka The Strugglers and Brice Randall Bickford). The new self-titled album is his seventh full-length and was produced with his longtime collaborator Scott Solter (Mountain Goats, Spoon).  Bickford's songs have earned him wide recognition from fellow lifer musicians and critics alike. Pitchfork has described his writing as "tracing a single thought or sketching a single image throughout the course of several bars, building suspense and making you wait patiently for the pay-off". In a review of the new album, Indyweek writes, "Bound by the yearning of Bickford's honeyed and hypnotic baritone, Scivic Rivers ponders questions that are big, unknowable, and universal with arrangements that are consistently immersive and engaging."

SOLD OUT: Laura Veirs with Katy Pinke. Mar 29

7:30 doors 8:00 Show

sorry there are no places left for this show

This special performance by Laura Veirs will gather those who played on her most recent album Found Light—co-producer Shahzad Ismaily (drums, keys), Sam Amidon (fiddle, vocals) Karl Blau (bass, vocals) and Charlotte Greve (sax, vocals)—together for their first live performance of the entire album, alongside a set of Veirs' greatest hits. This is Veirs' only State-side full band show.

"On the edge of this vibrant new world, Veirs names everything she feels and sees, with breakthrough frankness and the occasional whip-sting of vengeance, and it's thrilling to share in that freedom with her." – Pitchfork (10 Best Reviewed Albums of the Week)

"…Found Light plunges us headlong into Veirs' discoveries, which she elucidates with trademark nuance as well as a newly honed way with a gut punch…Intimate and profound, it is a powerful document of self-discovery" – NPR Music

"…fittingly reinvigorated and inspired." – The New York Times

SOLD OUT: Laura Veirs with Jackie West March 30. $20 adv / $25 door

7:30 doors 8:00 Show

sorry there are no places left for this show

sorry there are no places left for this show

This special performance by Laura Veirs will gather those who played on her most recent album Found Light—co-producer Shahzad Ismaily (drums, keys), Sam Amidon (fiddle, vocals) Karl Blau (bass, vocals) and Charlotte Greve (sax, vocals)—together for their first live performance of the entire album, alongside a set of Veirs' greatest hits. This is Veirs' only State-side full band show.

"On the edge of this vibrant new world, Veirs names everything she feels and sees, with breakthrough frankness and the occasional whip-sting of vengeance, and it's thrilling to share in that freedom with her." – Pitchfork (10 Best Reviewed Albums of the Week)

"…Found Light plunges us headlong into Veirs' discoveries, which she elucidates with trademark nuance as well as a newly honed way with a gut punch…Intimate and profound, it is a powerful document of self-discovery" – NPR Music

"…fittingly reinvigorated and inspired." – The New York Times

Darian Donovan Thomas • Ian Davis: Rock Band • Panther Hollow Mar 31

7:30 Door 8:00 Show $12.00 suggested donation

 

 

Darian Donovan Thomas is a Brooklyn based composer, multi-instrumentalist, and interdisciplinary artist. He is interested in combining genres into a singular vocabulary that can express ideas about intersectionality (of medium and identity). Necessarily, his work aims to redact all barriers to entry that have existed at the gates of any genre – this vocabulary of multiplicity will be intersectional, and therefore all-inclusive. He has received a Bachelors in Music Composition from The University of the Incarnate Word, and was a 2018 New Amsterdam Composer Lab Fellow, 2018 SoSI Composer Fellow, and 2019 Bang On A Can Composition Fellow. He is currently touring with Moses Sumney, Balùn, and Arooj Aftab. 

 

Panther Hollow is the band of New York City based artist, Bernardo Ochoa. Nardo works with various projects in various capacities; Panther Hollow reflects this endless curiosity and genre-fluidity. Honestly, this Colombian-american, Pittsburgh-raised artist is just trying to stay healthy and recover/foster a sense of play in music.

 

ID:RB

 is an outlet for composer/guitarist/singer 

Ian

 

Davis

. The music is part carefully constructed, part free; sections of intricate synthesizer and guitar counterpoint devolve into playful, noodley noise. ID:RB released their first album *Passing Phase* as a cassette in January 2020.

 

 

 

   

Alec Spiegelman •Bim Tyler • Joseph Keckler Apr 1

7:30 Door 8:00 Show

   

 Bim Tyler is a multi instrumentalist from Vermont whose passion for forgotten folk songs doesn't stop him from attempting something new in the 21st century. With a history of playing Old Time, Country, Psychedelic Jam, and Experimental, his music can be classified as Freak-Country or Freak-Folk with deep roots. His Debut album was released in 2021 and he has two new EPs set to release this Winter.

Brooklyn-based musician, producer and songwriter Alec Spiegelman's most recent full-length album is Airplane Mode, available on all digital platforms. He is a founding member of the band Cuddle Magic and has produced recordings for Ana Egge, Taylor Ashton, The David Wax Museum, Jennifer Kimball, Anna & Elizabeth, and the conceptual multi-media artist Jack Early, among others. As a sideman, on stage or in studio, he's worked with Amanda Palmer, Anais Mitchell, Darlingside, Kevin Morby, Okkervil River, Pokey LaFarge, among others.

Joseph Keckler is a musician and writer. He recently released a new single + film, "Ghost Song" and an NPR Tiny Desk concert. He's been presented by Lincoln Center, Centre Pompidou, Joe's Pub, SXSW, among others, and played in venues such as Hammerstein Ballroom and Ryman Auditorium (as national support act for Sleater-Kinney.)  His story collection, Dragon at the Edge of a Flat World was published in 2018. His music-performance Train With No Midnight just ran at Seattle's On the Boards and he is working on a feature film, touring with Lydia Lunch, and solo.

Kenny Warren's Sweet World • Danny Fisher-Lochhead Apr 2

7:00 Door 7:30 Show $12.00 suggested donation

Sweet World delivers a brand new set of compositions by trumpeter Kenny Warren. Lyrical and rhythmically driven noise/jazz with it's gaze toward the transcendental. Christopher Hoffman on cello and Nathan Ellman-Bell on drums.

Danny Fisher-Lochhead grew up in the city, but he's been away for a WHILE.  He's been patiently honing his craft in the woods of Maine, and will be at the Owl playing the music from a record he released this past October, called Homebody, alongside Ari Chersky (guitar), Ross Gallagher (bass), and Sean Mullins (drums).

Sara Caswell & Julian Shore • Caleb Curtis trio April 6

7:30 Door 8:00 Show $12.00 suggested donation

  

Grammy® Nominee Sara Caswell "is a brilliant world-class violinist…one of the very best of the present generation of emerging young jazz stars" according to the late David Baker, internationally-renowned jazz educator and Director of the Smithsonian Jazz Masterworks Orchestra. Rooted in an early exposure to a variety of musical genres, Sara's technical facility intertwined with her gift for lyricism continue to attract growing attention to her artistry as a jazz soloist, sideman, and teacher.

Caleb Wheeler Curtis Trio w/ Michael Sarin and Rashaan Carter
Brooklyn based saxophonist and multi-instrumentalist Caleb Wheeler Curtis is a bandleader and core member of several acclaimed bands including Ember and The Captain Black Big Band (2x GRAMMY Nominated). His third album as a leader, HEATMAP, was released on Imani Records in 2022 (with Orrin Evans, Eric Revis, and Gerald Cleaver). All About Jazz called Caleb "one of the more interesting alto saxophonists to emerge since 2000," Jazzwise raved "exhilarating post-Ornette free-jazzmaking." DownBeat Magazine said the music "radiates with brilliance," and Musica Jazz (Italy) described it as "a masterpiece."

Sam Sadigursky's Solomon Diaries • Danny Fox Trio record release event

7:30 Door 8:00 Show $12.00 suggested donation

Songs of freedom, rebellion, celebration, tradition, independence, loss, hope, decay and renewal – this is the music of

Sam Sadigursky's

 The Solomon Diaries, featuring accordionist Nathan Koci. Originally inspired by the fascinating rise and fall of the 

Borscht Belt

, Sadigursky's unique take on Jewish music combines numerous folk, world and jazz influences with a classical sense of harmony and deep love of improvisation.  "While the music often returns to klezmer and Yiddish modes, it is never confined by them, and Sadigursky refrains from relying on traditional sounds or nostalgia. In its totality, the instrumental cycle addresses the 20th-century American Jewish experience, but its spirit is generous and open enough to reflect that of any population of immigrants and refugees, transcending the particular to address the promises of the American dream, both realized and broken." – Chronogram

 

 

Danny Fox Trio- Time Took Care of It album release party

Celebrating its 15th anniversary, the Danny Fox Trio, featuring pianist Danny Fox, bassist Chris van Voorst van Beest, and drummer Max Goldman, is a true working band hailed for reinventing the classic piano trio format with genre-defying, uniquely personal original music. Whether holed up in a Brooklyn basement rehearsing or touring around the country crammed into a sedan, the trio has spent countless hours developing a rapport that's immediately palpable in their music.  Described as a modern-day Ahmad Jamal Trio, the band mixes tight ensemble playing with interactive, attuned improvisation.  Drawing on influences as varied as Ellington, Bartok, and The Meters, the music can 

switch gears at any moment yet remains cohesive thanks to strong motivic development and rigorous arrangements that challenge the traditional roles of the piano trio instruments.  Hailed as "changing the sound and expectation of a jazz piano trio" (WNYC) and "cool but not modish" (NY Times), the band is set to release its fourth album "Time Took Care of It" in April 2023.

Katy Pinke• Rest Ashore • Irrevery & Katy The Kyng • Dida Pelled •Joanna SternbergApr 8

7:30 Door 8:00 Show $12.00 suggested donation

 Katy the Kyng

Elsa Nilsson • Michael Sarian Apr 9

7:00 Door 7:30 Show $12.00 suggested donation

Trumpeter and composer Michael Sarian has been praised for his "unique compositional and instrumental voice" (Friedrich Kunzmann, All About Jazz) and his "endlessly renewable strain of lyric improvisation regardless of context or material." (Peter Margasak, Downbeat Magazine). Born in Toronto and raised in Buenos Aires, Michael relocated to NYC in 2012, and has performed at some of the most iconic international stages, including the Montreux Jazz Festival, Kennedy Center, Teatro Colón in Argentina, Blue Note Jazz Club, Jazz at Lincoln Center, BRIC JazzFest, and Central Park SummerStage. He has appeared on WNYC's Soundcheck with John Schaefer, NPR's World Cafe, and many more.

www.michaelsarian.com • instagram • facebook • twitter

Band of Pulses consists of Flutist Elsa Nilsson, Pianist Santiago Leibson, Bassist Marty Kenney and drummer Rodrigo Recabarren. They will be performing their suite entitled "Pulses" based around the rhythmic and melodic materials of Dr Maya Angelou's voice as she reads her poem "On the Pulse Of Morning". The suite explores the intersection between jazz and communication by using Angelou's voice as a framework for the compositions and improvisations. This work has been made possible with support from Chamber Music America's New Jazz Works program funded through the Doris Duke Charitable Foundation.

Matt Bachmann • Brittain Ashford April 13

7:30 Door 8:00 Show $12.00 suggested donation

 

Matt Bachmann (b. 1988, Chicago) is a social worker/musician whose music is a marriage of long form repetitive instrumental music and songwriting music. Maybe best known for his bass plucking in Mega Bog, Jeff Tobias' Recurring Dream Band and with the Ed Askew band, Bachmann brings the gentleness and touch of his bass playing to his synthwork and shaky voice. He has released three records on Owen Ashworth's (Advance Based) tight knit Chicago based label, Orindal Records, including Dream Logic which was released in 2021.

While Brittain Ashford has spent much of her career recording and touring in support of her original music, her unlikely appearance in the Broadway musical The Great Comet of 1812 took her a slightly different direction. Lin-Manuel Miranda once suggested that she could "sing while he wept into a bucket" and The New York Times said she should have been nominated for a Tony. Decidedly "not a theatre person" she has returned to writing and performing her own music; her forthcoming album, Trotter, will be out May 19 on Misra Records.

Ryan Dugre • Chelsea Crabtree • Kitba April 14

7:30 Door 8:00 Show $12.00 suggested donation

 

Ryan Dugre is a New York based guitarist and composer. His newest EP "Look See" is an exploration of the tenor guitar, out on Ruination Records.

Kitba, the eponymous musical project of singer-songwriter and harpist Rebecca Kitba Bryson El-Saleh, is the culmination of a lifetime of musical and artistic development. Based in Brooklyn, El-Saleh makes exhilarating, deeply personal music that explores the nuances of interiority, self-acceptance, communication, mental health, and love. Kitba's debut album Kitba LP, produced by El-Saleh and Zubin Hensler, will be released in 2023.

Chelsea Crabtree is a Brooklyn based singer-songwriter from Seattle. Growing up in a very musical family, she has been singing with her 8 siblings from a very young age. Originally studying jazz voice, she has recently been inspired to write her own songs. Her music draws from elements of folk, pop, R&B and 90's rock music.  This will be her debut performance of original music. She will be joined at The Owl by Gregg Belisle-Chi, Sam Decker, Chris Parker and Luke Bergman. 

Poet Marissa Davis/Chase Elodia's Perennials/Chris Morrissey Band Apr 15

7:30 Door 8:00 Show $12.00 suggested donation

 

 

Marissa Davis is a writer, translator, editor, and educator from Paducah, Kentucky. Following years in Nashville, Tennessee and Paris, France, she now resides in Brooklyn, New York. She received her MFA in poetry from New York University, where she was a Rona Jaffe fellow.  Marissa is the author of My Name & Other Languages I Am Learning How to Speak (Jai-Alai Books, 2020), which received Cave Canem's 2019 Toi Derricotte and Cornelius Eady Chapbook Prize, chosen by poet Danez Smith. 

Chase Elodia's Perennials is a Brooklyn-based ensemble. Their 2022 Biophilia Records release, Portrait Imperfect, was named one of the Best New Albums of 2022 by Downbeat Magazine. Founded in 2020, the band combines a collaborative and improvisational sensibility with an aesthetic orientation that has been nourished by singer-songwriters and electronic artists like Meshell Ndegeocello, Norma Winstone, and Becca Stevens.  Each member of the group is an exciting, emerging voice in the contemporary jazz scene in New York: Claire Dickson on Voice, Tyrone Allen on Bass, and Theo Walentiny on piano/keyboards, and Chase Elodia on drums. They toured across the USA in 2022, with performances at Lakehouse Jazz (San Francisco), The Muse (Boulder, CO), Oberlin College and Conservatory, Rudy's Jazz Room (Nashville, TN), Fulton St. Collective (Chicago, IL), and Rockwood Music Hall. They were a featured ensemble at the 2023 Winter Jazz Festival and will be touring in Europe in summer 2023.

Chris Morrissey is a songwriter, a bassist, a singer, a music director, a leo, an uncle, a lover of most cats and some dogs, a New Yorker, a Minnesotan, a yoga practicer, a wino, a restaurant frequenter, and joke teller/appreciator. As a bassist, he's logged hundreds of thousands of miles touring five continents with Norah Jones, The Jim Campilongo Trio, Mark Guiliana Jazz Quartet, Beat Music, Dave King Trucking Company, Sara Bareilles, Chris Thile's "Live From Here" house band, Margaret Glaspy, Boy George, Ben Kweller, Andrew Bird, Mason Jennings, Gretchen Parlato, Trixie Whitley, Gabriel Kahane, and Amy Helm.

Diamond Grinder • Wila Frank • Verboten Apr 16

7:00 Door 7:30 Show $12.00 suggested donation

    

Diamond Grinder is a New York-based folk-rock band formed in 2021 by Margaret Nygard and Eli Recht-Appel, whose songwriting partnership traces back to first attempts during their high school days in San Francisco, California. After many years of off-and-on collaboration between the pair, Nygard moved to New York City in the summer of 2021, where Recht-Appel had lived for the past five years. The two, both residing in the Ridgewood neighborhood of Queens, began to write music together frequently, overtime generating the material for their forthcoming debut album produced by Jared Samuel and Ian "Skinny" Salazar.

Wila Frank makes music that's searching, cinematic, and introspective with scalpel-like precision. With her forthcoming debut album, the 24-year-old Nashville-based songwriter immediately sets a mesmerizing mood that showcases her evocative lyricism as well as her tasteful ear as a multi-instrumentalist and producer blending delicate indie folk with visceral alternative rock.

Verboten tinkers with the old 60s-era pop song formula, combining late-Beatles/Elliott-style songwriting with distinctive modern touches of synthesizers and drum machines to create a dark, but inviting interior world of music. Verboten (Foster Powell) is based in Vermont.

Andreas Arnold • Lau Noah • Burtone Rosenblum Belo Trio Apr 20

7:30 Door 8:00 Show $12.00 suggested donation

Burtone Rosenblum Belo Trio Introducing an exciting and dynamic acoustic trio that will transport you to new musical horizons! The trio is comprised of violinist Ludovica Burtone (ITALY), Ben Rosenblum (USA) on accordion, and bassist Eduardo Belo (BRAZIL), who come together to create a unique sound that blends original compositions with Brazilian, Folk, and Latin influences.  Drawing from their diverse musical backgrounds, this trio's music is a perfect fusion of their individual styles, resulting in a sound that is both eclectic and harmonious with infectious rhythms, intricate but also lyrical melodies, and spontaneous improvisations are all hallmarks of their performance. 

Lau Noah is a multi-instrumentalist, composer and artist from Catalonia, Spain, based in NYC. Lau Noah became the first Catalan to ever perform a TINY DESK CONCERT. Noah has performed her solo project extensively through Europe and America and presents her first work of original compositions recorded in Brooklyn in 2021

The guitarist Andreas Arnold will perform some rootsy, traditional flamenco guitar as well as original pieces from his first first solo album and most recent release "From A to Z". "In the increasingly strong world of flamenco fusion the guitarist Andreas Arnold has a very personal, outstanding sound" – Flamenco y mas (Spain)

 

Alice TM • Stranger Cat• Charlotte Jacobs Apr 21

7:30 Door 8:00 Show $12.00 suggested donation

  

Alice TM is a queer artpop project based in LA. A dance conservatory dropout turned singer and composer, Alice TM bridges these two disciplines through her raucous, emotionally unhinged live performances, inhabiting a world between performance art and party. Their work is "open and inquisitive" (esoj), "beguiling" (New York Times), "introspective and dynamic" (Impose), "as painfully honest as it is stylistically exquisite" (Bandcamp)

Belgian vocalist and producer Charlotte Jacobs transposes her world into music. Sights, movements, sounds and places coalesce, reflecting the artist's surroundings in lush electronic unison. 
Charlotte merges vocal manipulation and unorthodox song structure with the floating, free improv techniques of avant garde percussionist and composer Raf Vertessen. 

Stranger Cat is vocalist, producer, and songwriter Cat Martino. Her voice and songwriting at the center, she uses piano, synths and looping pedals to create layers of sound, and moves amongst her self-made crystalline light sculptures, to yield a full sensory performance experience. The frequent collaborator with Sufjan Stevens, Stranger Cat has also recorded and toured internationally with Sharon Van Etten, The Shins, and Son Lux, to name a few. Marked by Martino's velvet croon, signature vocal looping, and a production style that is electronic, and acoustic organic, Stranger Cat delivers a range of intricate and soulful experimental art pop.  

Rich Saunders, Jake Sherman and special guests Apr 22

7:30 Door 8:00 Show $20 adv/ $23 cash at the door

  

When Rich Saunders was a child, he and his family would spend long, relaxing afternoons sitting in a circle, singing together in the way that only blood relatives truly can: creating close harmonies whose naturally blending tones seem the result of some kind of inbuilt genetic code. Fast forward a couple of decades and, though much has happened in the interim – a period as one-third of Universal-signed group Thirdstory; a stint singing backing vocals for Chance the Rapper; a trans-Atlantic, more experimental duo going by the name Refs; and an exploding TikTok profile with over 750K followers – it's still those magical vocal moments that are at the crux, however now they're coming primarily from the singer himself under new, voice-centric solo project Rich.

Jake Sherman is an American singer-songwriter and producer. He has released four solo albums on which he sings and plays all of the instruments. Sherman began playing piano at the age of four and initially played Scott Joplin rags before becoming heavily influenced in jazz by Jimmy Smith and Herbie Hancock. As a sideman, he has performed with Bilal, Meshell Ndegeocello, Nick Hakim, Blood Orange, Doobie Powell, Andrew Bird, Benny Sings, Emily King, Gabriel Garzon-Montano, Ralph Peterson Unity Project, Warren Wolf, and David Fiuczynski, among others.

Jason Burger •Shahzad Ismaily • Joshua Crumbly Apr 23

7:30 Door 8:00 Show $12.00 suggested donation

    

Jason Burger is a Brooklyn based drummer and percussionist who loves to support songs and the people who write and perform them.

Shahzad Ismaily was born to Pakistani immigrant parents and grew up in a wholly bicultural household. While he holds a masters degree in biochemistry from Arizona State University, he is a largely self-taught composer and performs on practically every instrument. Ismaily has recorded or performed with Laurie Anderson and Lou Reed, Tom Waits, Jolie Holland, Laura Veirs, Bonnie Prince Billy, John Zorn, Elysian Fields, Will Oldham, Nels Cline and the Tin Hat Trio. He has also composed regularly for dance and theater and film, including for Min Tanaka, the Frankfurt Ballet and the East River Commedia, plus scoring the critically acclaimed movie Frozen River, which won the Grand Jury Prize at the 2008 Sundance Film Festival. He was 2008's Artist in Residence at the Headlands Center for the Arts in San Francisco, CA . Ismaily has studied music extensively in Pakistan, India, Turkey, Mexico, Santiago, Japan, Indonesia, Morocco and Iceland.

As daunting as it may seem to describe the multi-faceted career of Joshua Crumbly in one word, you couldn't do any better than the one he's chosen to title his debut album: "Rise." Since making his professional debut at age 10 alongside his saxophonist father, the gifted bassist, composer & producer has continued on a remarkable trajectory. With the release of "Rise" and latest album "ForEver" he takes the next bold leap, unveiling a stunning, uplifting vision that embraces the full spectrum of his musical experiences.

After being mentored by such iconic bassists as Reggie Hamilton, Al McKibbon, and Victor Bailey, Crumbly went on to study at the prestigious Juilliard School. By the end of his freshman year he'd been recruited to join the Terence Blanchard Quintet and recorded on the band's acclaimed album "Magnetic." Since then he's recorded and toured with a staggering list of genre-blurring artists including Kamasi Washington, Lizz Wright, Stefon Harris, Ravi Coltrane, Anthony Wilson, Leon Bridges and Bob Dylan. 

Kyle Morgan • Sean Cronin • Noah Harley Apr 27

7:30 Door 8:00 Show $12.00 suggested donation

Dorée • Eleanor Buckland • Liv Greene

7:30 Door 8:00 Show $12.00 suggested donation

   

Eleanor Buckland made her start as one-third of Lula Wiles, the Boston-based folk-rock trio that became an acoustic music scene favorite with their three critically hailed albums. Now living in Brooklyn, the singer songwriter has turned to a different side of her musical interests as a solo artist. Buckland's debut album You Don't Have To Know (released October 2021 on Soundly Music) sets her deeply personal songs against inventive indie rock arrangements.

Queer americana songwriter Liv Greene has been processing the world around her through writing since teaching herself her first guitar chords at 12. In school, Greene honed her skills at Interlochen Arts Academy in northern Michigan and New England Conservatory in Boston, studying songwriting and contemporary improvisation. Now Nashville-based, Greene just finished up work on her second album, collaborating with engineer Matt Andrews (Gillian Welch), and employing the help of talented friends like Jordan Tice, and Sarah Jarosz.  'Unassumingly charming with a velvety voice… she envelops a forlorn loneliness that's at once poignant and crushing." – American Songwriter.

Jonathan Linden • Lilith Phillips • Emily Fremgen • Doo Crowder Apr 29

7:30 Door 8:00 Show $12.00 suggested donation

 

While cutting his teeth for the last decade as a touring guitarist, Jonathan Linden has been consistently writing, and is now sharing his carefully-incubated songs with local audiences. His work reflects an interest in the rich lyrical heritage of 60s and 70s country-folk, the innovations of alternative and progressive rock, the sensibilities of indie-pop, as well as jazz harmony. 

Lilith Phillips's poetic lyrics explore themes of queer identity paired with folk/classically-influenced fingerpicking patterns.

Emily Frembgen is a NYC-based singer-songwriter with "an angelic voice, ethereal songs, and a poetic sensibility that recalls the minimalism and genius of Emily Dickinson." Her last album, "It's Me or the Dog" was a critical favorite & she's currently hard at work on the next one. 

Doo Crowder lives in central PA & sings his avant/traditional "praying in the dark-core" songs to be glorified & loved but sometimes has to settle for being heckled & discussed cynically. He sounds like Elliott Smith & Isaac Brock when he sings, like G Love when he raps & like William S Burroughs when he recites his literature to music

Evil Hour reading series Apr 30

7:00 Door 7:30 Show $12.00 suggested donation

Poetic Thrust • Sebastien Amman May 4

7:30 Door 8:00 Show $12.00 suggested donation

A bold take on the worlds intersecting Hip-Hop and Jazz, Poetic Thrust is a seven piece live ensemble dedicated to bending the form of contemporary music, often improvised, and always from the heart. 

Sebastien Ammann is a Brooklyn based Swiss pianist. The band he will be presenting at the Owl Music Parlor brings together some of his favorite musicians, trumpeter Josh Deutsch, bassist Eivind Opsvik and drummer Eric McPherson to explore some new music composed for an upcoming recording.

h. pruz • Dirty Bird • Elijah Berlow May 5

7:30 Door 8:00 Show $12.00 suggested donation

 

h. pruz is the solo project of Brooklyn based singer-songwriter Hannah Pruzinsky (they/she). h.pruz released their debut EP "again, there" in late 2022 via Oof Records.  
The collection of songs is a front porch with wind chimes sounding; a nap on the couch on a summer afternoon; a pair of dirty hands in compost, letting dead things turn into something richer, kinder.
h. pruz expects to release their first full length album in late 2023. 

Dirty Bird hails from the concrete woodlands of New York City, and consists of Christie Woods-Lucas, Melissa Escudero, Natasha Thweatt, Nick Katz, Eli Greenhoe and Blake Suben. Each member has spent his or her life grounded in music. With roots going back to New York's renowned arts school LaGuardia High School, the members of Dirty Bird reconnected in 2016 and in true New York style bring a wide variety of musical backgrounds – from jazz to bluegrass to classical – together in one vibrant and wholly original folk sound. Since forming the band has presented powerful performances to venues around the Northeast, including Bowery Ballroom, Mercury Lounge, Mass MoCa and Northside Music Festival. Dirty Bird brings both new and long-devoted audiences intimate, poetic lyrics charged by three-part harmony and lively, distinct arrangements. Soulful, harmonious, and ever-evolving, Dirty Bird's music redefines what it means to be a folk band.

Elijah Berlow  is a Chicago-based songwriter and multi-instrumentalist folk musician. Originating from pastoral roots in Vineyard Haven, Massachusetts, Berlow is a playful story-teller with a narrative style grounded in the traditions of Americana music. As a vocalist, he emanates a sincere warmth through his thoughtful phrasing; and his diligent fingerpicking guitar-style leads steadily through the pulsing catharsis of any song. Berlow creates music that is complex, soulful and in conversation with a
rich rhythmic history. His music can currently be found on all streaming platforms including the newly self-released EP "Put Out Fires"(2022).

Rachel Baiman with Taylor Ashton! May 6

7:30 door 8:00 Show tix still available at the door $20.00

 

Alkemie • Jim Hopkins & Alyssa Weathersby May 7

7:00 Door 7:30 Show $12.00 suggested donation

With musical interests spanning the medieval period to modern musical theatre, Jim Hopkins & Alyssa Weathersby's collaboration began during the height of the pandemic when they used their sudden free time to explore and bend genres. For this program, they will present a program of 20th Century art song for voice and piano, alongside works by Italian baroque composer Barbara Strozzi reimagined for voice and electronic instruments.

A restless collective of Medieval experimentalists, the Flatbush-based band Alkemie recently gained recognition beyond Brooklyn with their soundtrack for the video game Pentiment (directed by Obsidian studios and published by Xbox). For this program they look at the music of mystic Hildegard von Bingen within her apothecary practice, sharing her vision of an earth-bound transcendence that connects humans to the celestial. Medieval instruments and voices render Hildegard's ecstatic chant into meditative soundscapes and raucous dance tunes.

With Tracy Cowart (harps & voice), Jim Hopkins (harmonium), Adrienne Lotto (voice), Sian Ricketts (voice, recorders & douçaines), Niccolo Seligmann (vielles), Spiff Wiegand (percussion)

Phillip Golub Quintet's Abiding Memory • David Adewumi

7:30 Door 8:00 Show $15 adv/$18 *cash* door

 

Dave Adewumi is an award-winning trumpet player, and composer.After studying at the New England Conservatory and Juilliard he became the first jazz musician to receive the Paul and Daisy Soros Fellowship for New Americans. In 2019 he was awarded 1st prize in the Carmine Caruso International Jazz Trumpet Competition. His most recent collaborations have been with Jason Moran and the Bandwagon's From Dancehall to Battlefield, and Dave Douglas' Dizzy Atmosphere

David Adewumi, trumpet; Adam Olszewski, bass; Jongkuk Kim, drums; Chris McCarthy, piano

 

Pianist Phillip Golub brings his new quintet to The Owl to perform a set of interconnected compositions called Abiding Memory (album forthcoming).

Alec Goldfarb, guitar; Daniel Hass, cello; Sam Minaie, bass; Adriano Vicentino, drums

 

Allegra Krieger • Drinking Bird • Emma Frank Rec Release Mar 12

7:30 Door 8:00 Show $17 adv / $20 door

https://www.venuepilot.co/events/73863/orders/new

 

Maya Keren • Otracami • Frances Chang May 13

7:30 Door 8:00 Show $12.00 adv / $15.00 door May 20

Maya Keren is a Brooklyn-based pianist, vocalist, composer, and songwriter from Philadelphia. They are interested in the process of environing people, voices, instruments, and sounds in ways that invite connection with one's erotic instinct (to use the language of Audre Lorde), embody compassionate and queer relations with the self and the collective, and destabilize learned systems of domination. Currently Maya is writing songs, loops, and words for their band Careful In The Sun and is enjoying performing songs from their just-released debut album, Blebba Grows.

Otracami is the project of Brooklyn-based songwriter Camila Ortiz. As Otracami, she leans into storytelling and atmosphere, crafting spiraling narratives that emerge from swamps, dim bedrooms, or the passenger seat of a car. Her debut album, touching the stove coil, is due 2023.

With a personal practice steeped in meditative and occult interests, Frances Chang's songs and poems take on an ever-changing experiential quality that combat songcraft's standard operation as static object. She released an album, support your local nihilist, in 2022. On May 13 at the Owl, she will be performing her songs with support from saxophonist Carolyn Hietter.

The Bird Calls • Kristin Daelyn • Winston C.W. May 14

7:00 Door 7:30 Show $12.00 suggested donation

    

The Bird Calls is the recording project of Sam Sodomsky, a songwriter and music journalist based in New York. Since 2022, he has released his music through Ruination Record Co. His latest album, My Life in Hollywood, was described by Bandcamp as a "stripped-down, classic rock-indebted LP" with "melancholy-yet-playful ruminations on the human experience." Forbes Magazine called it "gorgeous and folkish."

Philadelphia indie folk artist Kristin Daelyn roots herself in the comfort and simplicity of folk tradition, using fingerstyle guitar and intimate storytelling as the foundation of her music.  Each piece creates a tender world of melancholy and warmth, emoting through layers of ambient arrangements and layered vocal swells.

Winston C.W. (Cook-Wilson) is the lead singer, keyboardist, and songwriter of the band Office Culture. He also releases solo music under his own name—most recently the jazz-inflected trio album Good Guess (2020). Office Culture's third album, Big Time Things, was released by Northern Spy in 2022.

Renny Conti • Claire Dickson • Kitba May 18

7:30 Door 8:00 Show

    

Renny Conti (born 1997 in San Rafael, CA) is a singer-songwriter and producer. Using an array of instruments and recording gear, he has written, engineered, mixed, and produced three full-length albums and three EPs since 2017. On his 2022 full-length, might.bail, the songs feel familiar yet experimental, filled with warm acoustic guitars, doubled vocals, and warbly synthesizers. This all comes together in an earnest yet wonky singer-songwriter record that feels somehow both expansive and miniscule in scope. He works from his apartment in Brooklyn, NY.

 

Claire Dickson is a creative musician based in Brooklyn. She expresses with words and sounds, which she improvises and assembles into stories. She understands music as a primordial and ideological vessel of communication. In addition to her solo work, she co-leads the duo Myrtle (with singer/songwriter Camila Ortiz). For this performance at the Owl she will be sharing music from a new collaboration with Jesse Bielenberg.

 

Kitba, the eponymous musical project of singer-songwriter and harpist Rebecca Kitba Bryson El-Saleh, is the culmination of a lifetime of musical and artistic development. Based in Brooklyn, El-Saleh makes exhilarating, deeply personal music that explores the nuances of interiority, self-acceptance, communication, mental health, and love. Kitba's debut album Kitba LP, produced by El-Saleh and Zubin Hensler, will be released in 2023.

Katie Von Schleicher • Poppy Patica • Broken Every Angle • Market May 19

7:30 Door 8:00 Show $12.00 suggested donation

     

Brooklyn-based songwriter Katie Von Schleicher's debut solo full-length was described by many critics as "lo-fi," which was true only in the most literal sense. Shitty Hits, released in 2017, was recorded on a Tascam 4-track cassette machine in a dark room, and it had the crackling white noise to prove it. But Von Schleicher's work, both alone and with her band Wilder Maker, is more ambitious than the lo-fi tag usually implies. Her songs are carefully constructed, intensely dramatic, and, even when she only has four tracks at her disposal, arranged for a full band, which Von Schleicher occasionally pushes so far that it sounds orchestral.

Poppy Patica was started by Peter Hartmann as a solo rock project in Oberlin, OH in 2014. The project has taken the form of full bands and various collaborations in Hartmann's hometown, Washington D.C., as well as on tour around the country, including New York and Oakland, CA where Hartmann is now based. After several short releases, ranging from layered psych-pop, to dancey drum machine tracks, to stripped down acoustic songs, the first full length Poppy Patica studio album, Black Cat Back Stage, is out on May 5th via House of Joy. The album was recorded with a full band in D.C. in February of 2020. More recently, Poppy Patica recorded another full length album in the fall of 2022 with Nate Mendelsohn (Market), as well as an EP with Paco Cathcart (The Cradle).

 

Broken Every Angle is the solo project of Tom Kearney. On "Telling Pattern", his latest release (CEE-07), he combines avant garde soundscapes with rootsy guitar compositions, using a lyrical style that is by turns whimsical and psychedelic, yearning and nostalgic. Tom lives and books DIY shows in Mexico City's thriving underground experimental music scene.

 

On their debut for Western Vinyl, Nate Mendelsohn and his band Market use lyrical maximalism for the powers of good.  On "The Consistent Brutal Bullshit Gong" Mendelsohn and his band carve out space for his words to speak through with humor and intensity. Guitars and synthesizers tangle fluidly over top of the rhythm section's tight bedrock. Outside of Market, Mendelsohn has recorded and produced for artists like Frankie Cosmos, Dougie Poole, and Wendy Eisenberg, and played with Yaeji, Vagabon, Katie Von Schleicher (who co-produced the album with him), and Sam Evian (who mixed it).

Lowpines • Air Waves • Darren Jessee May 20

7:30 Door 8:00 Show $12.00 adv / $15.00 door May 20

    

Lowpines

is a Brooklyn-based band led by British songwriter and producer Oli Deakin, and featuring a changing cast of band members. Whilst also working with many other artists as producer, musician and co-writer, Lowpines has released several records and EPs that have featured on radio and press across the UK and USA, and in numerous TV and film soundtracks.

"poised and mysterious as it contemplates oblivion" The New York Times "  

Oli Deakin has also produced a number of records in recent years, including CMAT, Eleanor Moss and The Wandering Hearts.  Lowpines is currently working on a new record, due in 2023.

www.lowpines.co.ukwww.lowpines.bandcamp.comwww.instagram.com/lowpines

 

Nico Schneit aka Air Waves, newly signed to Fire Records, just revealed a brand new track 'The Dance'. Their first new music on the label, it's waited three years to see the light of day. Arriving now, blinking and smiling in the widening light of 2022, feeling more needed and necessary but also more joyous than ever before. 

Darren Jessee is a familiar presence to alternative music fans thanks to his long tenure as drummer / backing vocalist in Ben Folds Five. He's toured with Sharon Van Etten, and Hiss Golden Messenger. But perhaps Jessee's most affecting work has been the three albums he has released under his own name. Central Bridge is his best yet. A hushed understated affair, the album revels in the small details of life—a crumpled pack of cigarettes found in an old jacket, a pile of wet swimwear on the floor—that somehow leave a lasting impression on a person or stir up deep seated memories.

Gregg Belisle-Chi's HUM quartet • James Carney quartet May 21

7:00 Door 7:30 Show $12.00 suggested donation

 

Gregg Belisle-Chi's HUM quartet delivers new music written by the Brooklyn guitarist/composer. A guitarist "of impeccable technique and broad imagination" (New York Times) and "of mercurial interests yet grounded focus" (Earshot Jazz), Belisle-Chi has steadily been maintaining a career in the New York City music scene playing, recording, and touring with such luminaries as Tim Berne, Reid Anderson, Tom Rainey, Hank Roberts, Bill Frisell, Emma Frank, and many more in the Jazz, Improvised, Rock, and Singer/Songwriter ethos.   With Sam Decker, saxophone; Noah Garabedian, bass, and Jeff Davis, drums

 

the James Carney quartet is:

Ravi Coltrane, saxophones 

James Carney, piano/compositions 

Mark Helias, bass 

Tom Rainey, drums 

Ambient Pasta Presents May 25-28

7:30 Door 8:00 Show $20.00 May 20

tickets and more info:

The good people of A.P, will occupy The Owl and offer their own unique curation and multi-sensory immersions for this week. https://ambientpasta.com

Conrad Tao • The Rhythm Method & Alice Teyssier June 1

7:00 Door 7:30 Show $12.00 suggested donation

The Rhythm Method and Alice Teyssier present Lewis Nielson's tour de force work Pastorale para los pobres de la tierra, for flutist/vocalist and singing string quartet, alongside a set by acclaimed pianist-composer Conrad Tao.

Conrad Tao has appeared worldwide as a pianist and composer. In addition to his recital and concerto performances as a solo musician, Tao maintains active collaborations with improviser and vocalist Charmaine Lee, with the Junction Trio, his ensemble with violinist Stefan Jackiw and cellist Jay Campbell, and with dancer and choreographer Caleb Teicher. At the 2019 New York Dance and Performance Award ("Bessies"), Tao was the recipient of the award for Outstanding Sound Design / Music Composition, for More Forever, his evening-length work written for and with Teicher's company.

Praised as "fierce, fearless, and virtuosic… unapologetically stylistically omnivorous and versatile" (New Music Box) and "trailblazing…skillful composer-performers" (The New Yorker), The Rhythm Method strives to reimagine the string quartet in a contemporary, feminist context. The four performer-composers of The Rhythm Method continually expand their sonic and expressive palette through the use of improvisation, vocalization, graphic notation, songwriting, and theater.  

Flutist and vocalist Alice Teyssier has appeared as a soloist with the numerous orchestras and ensembles and is regularly featured on Los Angeles' renowned Monday Evening Concerts series. A uniquely gifted advocate for new music, Alice has given residencies for composers and performers of new music and premiered works at such universities and festivals as Harvard, Brown and Stanford; Mostly Mozart, Big Ears and the like. Equally devoted to historically-informed yet inventive performances of early music, she is co-founder of the chamber ensemble La Perla Bizzarra. She has earned degrees from the Oberlin Conservatory of Music, the Conservatoire de Strasbourg and the University of California-San Diego. She lives in Brooklyn, NY, where she is a member of the International Contemporary Ensemble, the interdisciplinary troupe The Atelier and the experimental jazz quartet SYMPHONY. She teaches at New York University.

Levon Henry 'Theater of the Mind' Record Release, w Kitba & Fish Hunt Jun 2

7:30 Door 8:00 Show $15.00 adv / $20.00 Door

Kitba, the eponymous musical project of singer-songwriter and harpist Rebecca Kitba Bryson El-Saleh, is the culmination of a lifetime of musical and artistic development. Based in Brooklyn, El-Saleh makes exhilarating, deeply personal music that explores the nuances of interiority, self-acceptance, communication, mental health, and love. Kitba's debut album Kitba LP, produced by El-Saleh and Zubin Hensler, will be released in 2023.

Fish Hunt plays 'sweet little tunes from the heart.'

Levon Henry is a multi-instrumentalist and writer whose work revolves around the unfinished and ongoing. Song form is evident, but performed without clear beginning or end. Extensions and fragments in equal measure. Melodies circle back, are spontaneously reformed, recomposed. Repetition and discrepancy abound. If memory is an emotional process, then the memorable is somehow central to the emotive. It is the feeling of memory that accumulates. Listeners often report a highly visual experience, but even Levon is a bit confused about that. It's just sound, after all.
---
on instagram @theowlbk ♫? #theowlbk
AVAILABLE FOR RENTAL