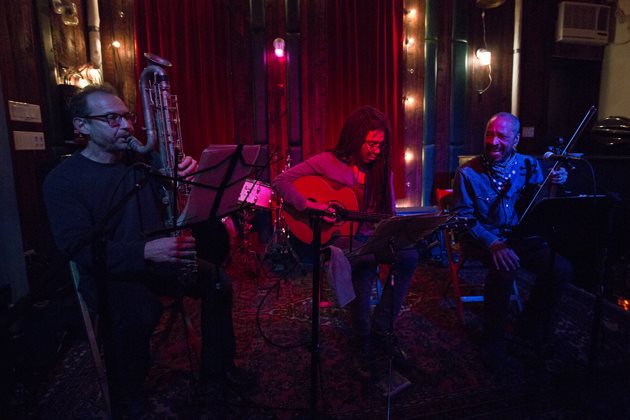 DOORS @ 7:30 / SHOWS @ 8PM, UNLESS POSTED OTHERWISE 
PROSPECT LEFFERTS GARDENS • BROOKLYN
•• now serving beer and wine
---
RSS
2023
Adam Levy's Mint Imperials • Morley & Chris Jan 5

7:30 Door 8:00 Show $12.00 suggested donation

Morley and Chris Bruce create global, earthy, ethereal stories in praise of courage, vulnerability, resistance, dignity and love. Joined by bassist Ross Gallagher and Yuval Lion, drums.

Adam Levy & the Mint Imperials (Adam Levy – vocal & guitar; Andy Hess – Fender bass; Tony Mason – drums) specialize in story-songs, chock full of dreamy realism. The band's groove swaggers and sways collectively, as they play with familial telepathy. Levy is probably best known for having been in Norah Jones band for her first three albums. He is also featured on recordings by Allen Toussaint, Tracy, Chapman, Amos Lee, Ani DiFranco … Bassist Andy Hess was in Gov't Mule for several years, and has toured with Robben Ford, John Scofield, Graham Nash … Drummer Tony Mason has played with Charlie Hunter, Paula Cole, Jim Campilongo …

"Even the thorniest jazzbo snobs can recognize Levy's potential to pen material for the next Great American Songbook." —Offbeat magazine

Ambient Pasta presents Weeze/teasea • ros • Rain JohannesJan 6

7:30 Door 8:00 Show $12.00 suggested donation

 

Weeze/teasea is a collaborative performance between brothers Dan and Tom Criblez's solo projects. Weeze(Dan Criblez) has created music exploring ambient, art pop, and experimental genres. He expresses through nostalgic and emotional melodies using instruments and sounds like piano, synth, creative beats and samples. teasea creates ambient guitar music for moments of solitude and friendship with a goal of reaching a sense of calm and center. This past year he experimented with a 3 album summer solstice release, curating a days worth of music for listeners to embrace the longest day of the year. The 2 collaborate often on each other's music but this is the first set combining the nature of both their worlds into one performance.

 

Curious to explore the balance between authenticity and creation, the magic of sound found ros at the early age of 4 with classical piano. Painting from the quietude of inner thoughts, inspired by the exploration of memory and love, blended with early influences of classical, jazz and indie soul music; ros quickly discovered the power of expression through music and storytelling.

In the fall of 2016, Rain Johannes spent two months in his bedroom recording ten songs he wrote as a junior and senior in high school. On November 4th 2016, those songs were released as his debut album "Sunshine." To celebrate its 6-year anniversary, brothers Dan and Tom Criblez will join Rain in performing "Sunshine" in its entirety and as faithfully to the original recordings as possible. Plus, falling only a day after Rain's 26th birthday, guests are sure to expect a night of celebration, reminiscence, and beautiful music. We will see you at the Owl on January 6th!

 

Jean Rohe // James Shipp Jan 7

7:30 Door 8:00 Show $12.00 suggested donation

Songs from the 74 Corridor" is a new memoir concert by songwriter Jean Rohe. In it, she traces the length of the NJTransit #74 bus line (Paterson to Newark, NJ) with stop-specific songs telling family stories about life in the cities that shaped her and her forebears: a route and a root. Featuring Caroline Davis (saxophone, voice, electronics), Christopher Tordini (bass), Jason Burger (drums). "74 Corridor" is sponsored, in part, by the Greater New York Arts Development Fund of the New York City Department of Cultural Affairs, administered by Brooklyn Arts Council (BAC).

The James Shipp Music Band is exploratory and interactive, American and outer space, acoustic and electronic; it showcases mostly instrumental compositions and a few of James's (famous) songs. It is occasionally Brazilian, and populated with players who will admit (if pressured) that they are jazz musicians.  James has been a vibraphonist, percussionist and synthesist in NYC for 20+ years.  He is a member of the Grammy-nominated Anat Cohen Tentet, Miho Haza's M Unit, and travels currently with Anat Cohen's Quartetinho. James plays Vic Firth sticks, Balter Mallets, and Zildjian cymbals exclusively.  

The band: JS – vibes, synthesizer, percussion, vox; Chris Parker – electric guitar; Mike LaValle – electric bass; Bill Campbell – drums

Maya Tsou AFTERNOON SET Jan 8

4pm

19 year old singer Maya Tsou comes together with guitarists Owen Pattillo, Mitch Owens, bassist Stevie Howard and drummer Leonardo Tapia to commemorate her birthday in a personal selection of indie favorites. Not dissimilar to the soundtrack of an early 2000's coming-of-age film, these songs come from artists Regina Spektor, Blur, the Yeah Yeah Yeahs, among others. The sound is nostalgic and electrifying, with an undeniably grunge, DIY-attitude. 

Leslie Mendelson • Amy Helm Jan 8

7:30 Door 8:00 Show $20.00 adv / $25.00 cash at the door

Leslie Mendelson is a Grammy Award-nominated singer/songwriter. Her most recent album, 'If You Can't Say Anything Nice…' is out now.  Described by Relix Magazine as an artist with "a loyal, cross-generational audience that hugs the hippie, hipster, coffee shop and society crowds." Leslie had collaborated with legends such as the Grateful Dead's Bob Weir as well as Jackson Browne on the duet "A Human Touch," for the documentary '5B,' which is also included on his 2021 Grammy nominated album, 'Downhill From Everywhere.' Leslie recently opened for The Who for three nights on their current tour The Who Hits Back and supported Roger Daltrey for his 2022 UK solo tour.

Amy Helm's third album, What the Flood Leaves Behind, is her most autobiographical yet, both in content and creation. Released in June 2021 via Renew Records/BMG, these 10 songs represent a gathering of ideas and experiences, friends and collaborators. Yet, the album also marks a landing — a pause for the traveling musician and mother of two young boys who was seeking clarity in her calling and career.After making multiple albums and performing in far-flung places, Helm returned home to Woodstock's Levon Helm Studios — casually known as The Barn — just before the pandemic to record What the Flood Leaves Behind and reclaim a sense of self. The Barn became what Helm calls "the tuning fork" for the record. Helm sings stories of life's relentlessness. But like she extrapolates from "Verse 23," the most productive, and often the most healing response, is to create. As a result, What the Flood Leaves Behind serves as a defiant form of self-expression, as Helm steps fully into her own light. 

Levon Henry Presents, Jan 12

7:30 Doors 8:00 Show

$12.00 suggested donation

The saxophonist/songwriter Levon Henry hosts a collaborative monthly residency, with a different cast and structure every show.

Benji Santos • Miriam Elhajli • The Cradle Jan 13

7:30 Door 8:00 Show $12.00 suggested donation

      

Miriam Elhajli is a Venezuelan-Moroccan-American composer and vocalist whose work is influenced strongly by the folkloric musics of South and North America, modern jazz, and contemporary classical music. A graduate of Berklee College of Music, she currently lives in Brooklyn where she performs (on the side of the road or otherwise), and is a researcher at The Association for Cultural Equity founded by Alan Lomax. 

The Cradle is the musical project of Brooklyn artist Paco Cathcart. Paco has been part of the DIY scene in New York for a decade now, constantly writing and recording albums, playing in a variety of groups (see: Climax Landers, Shimmer, Sweet Baby Jesus, Eyes of Love), touring consistently, and engineering for other artists and bands.

 

Ross Martin and Grant Gordy • Jacob Joliff & Wyndham Baird Jan 14

7:30 Door 8:00 Show $12.00 suggested donation

 

Brooklyn, NY duo Grant Gordy and Ross Martin's recording Year of the Dog brings together two of acoustic music's most forward-thinking virtuoso guitarists, both of whom have deep backgrounds in the American musical vernacular. The duo, born of impromptu musical meetings and jams, honors its birth in spontaneity with plenty of seat-of-the-pants soloing as well as some elaborate two-guitar arrangements. Improvisation, fluency in different styles, and thoughtful arranging are also hallmarks of some of the bands in which Grant and Ross have previously made their marks (David Grisman Quintet, Matt Flinner Trio).

Jacob Jolliff grew up just south of Portland, OR. He was awarded a full scholarship to The Berklee College of Music in Boston in 2007. Shortly after graduating from Berklee, he won the National Mandolin Championship. In 2014, he joined the progressive bluegrass group, Yonder Mountain String Band. He toured with YMSB until the end of 2019, releasing two albums with them. This year he has been touring with Béla Fleck's My Bluegrass Heart, as well as his own group, The Jacob Jolliff Band.

Tomas Fujiwara & Mariel Roberts • Alta 4tet Jan 15

7:30 Door 8:00 Show $12.00 suggested donation

 

The Brooklyn-based Fujiwara/Roberts duo brings together two artists who are active performers, improvisers, and composers working in the field of new and experimental music. On cello and drums, the duo weaves together their individual backgrounds in jazz, classical, and experimental music through improvisation.

Praised for their "fiery" and "faithful" performances of contemporary repertoire, Brooklyn-based ALTA 4TET is a collaboration of four committed players who prioritize exploration, excellence, and curiosity in their performances. ALTA is: violinists Gabryel Smith and Rachel Hauser, violist Emily Bookwalter and cellist Ken Hashimoto.

Crosslegged, Elizabeth & the Catapult, Oropendola

7:30 Door 8:00 Show $15.00 suggested donation

OROPENDOLA'S SINGLE + MUSIC VIDEO PREMIERE SHOW!

 

Joanna Schubert, the Brooklyn-based singer-songmaker-keyboardist behind Oropendola, creates kaleidoscopic chamber pop filled to the brim with energy and emotion. Her songs often sound like a wink but hit like a gut punch, pendulum-swinging from playfulness to earnestness with deft, technicolor brushstrokes. She has been a touring member of Half Waif and Barrie, sung with Samir Langus, and currently plays in Brooklyn-based Nicomo and beccs. The band for this show will include Elizabeth LoPiccolo on harmonies/flute/synth, Gabby Sherba on harmonies, Nico Osborne on guitar, Derek Weaving on bass, Mike Gebhart on drums/drum machine, and Tree Palmedo on horns. Oropendola's debut album will be out in the spring.

Elizabeth Ziman, who performs as Elizabeth and the Catapult, is a Brooklyn-based critically acclaimed singer/songwriter. She's toured with the likes of Sara Bareilles and Kishi Bashi; collaborated with Esperanza Spalding, Gillian Welch, Blake Mills and Ben Folds; scored, with Paul Brill, international award-winning documentaries, and won an Independent Music Award for Songwriting, Folk category. Her songs have been featured in national television campaigns, and she most recently wrote music for Sara Bareilles' new Apple TV show, "Little Voice." Always writing, Elizabeth has narrowed her vast collection of previously unrecorded material down for her fifth full-length studio album "Sincerely, e" which she self-produced and was released on Compass Records in 2021.

Crosslegged is the project of singer-songwriter-producer Keba Robinson. Born in Norristown, PA and raised between Pennsylvania and California, her musical inspirations span folk, experimental pop, post punk, indie rock and soul. She grew up in a Jamaican household where the sounds that filled the air ran the gamut of roots reggae acts like Burning Spear and Third World and singer-songwriters like Carole King and The Mamas and the Papas, which developed her original love of singing and pure melody. Keba's early days as Crosslegged were inextricable from the creative community that she built with friends through fests and art shows. She's excited to release a new album called Another Blue on January 27th, 2023.

Layale Chaker / Timo Vollbrecht's Fly Magic

7:30 Door 8:00 Show $12.00 suggested donation

  

FLY MAGIC is a genre-exploding band with a bold sense of creativity and intent, led by Brooklyn-based saxophonist and composer Timo Vollbrecht. It fuses jazz with post-rock, electronics, and melody-oriented instrumental songwriting. After two acclaimed records and performances in over 30 countries, their third album, Givers & Takers, marks a new chapter: It conjures acoustic delicateness with otherworldly soundscapes of orchestral width. With this stellar line-up, Timo is presenting his vision of a band that is truly original, avoids easy categorization, is warm-timbred, melodic, atmospheric, and unpretentious.

Timo Vollbrecht – sax,  Elias Stemeseder – piano & synths,  Vinícius Gomes – guitar, s Jason Burger – drums    www.fly-magic.com

Layale Chaker's Radio Afloat is a reflection on the intertwined destinies of people and the natural world, which manifest even louder in times of collective pain; a commentary on the ebb and flow of politics of power and conflict that further the vulnerability of the land and those who tend to it. Conceived as a suite of intersecting movements, it echoes "The Trace of Blue Passion", a poem by Lebanese author Ounsi el-Hage:

"… And just as birds flock wisely / I trekked from ocean to ocean / From peak to branch / From night to night to night.."

With Jake Charkey, cello – Phillip Golub, piano – Sam Minaie, bass – John Hadfield, percussion.   https://www.layalechaker.com/

Evangeline Young • Camille • Eliza Edens Jan 21

7:30 Door 8:00 Show

Camille Schmidt is a Brooklyn based songwriter.

Evangeline Young is a singer-songwriter and actor originally from outside of Philadelphia, now based in Brooklyn. Growing up acting and playing music in a family of folk musicians, Evangeline discovered her profound love for telling stories when she was a young kid, and she's been doin' it ever since. Her music ties in sounds from indie, folk, country and rock genres with an emphasis on vulnerable storytelling through her lyrics. She released her first EP, "Splinters", in August of 2018. Evangeline is currently in the process of recording/mixing her upcoming record "As Long As We Can See," which she began recording in November of 2020 at the Black Lodge Audio Studio in New Hampshire. In March of 2022, Evangeline opened for Glen Hansard and Marketa Irglova's band The Swell Season at the Beacon Theatre in New York City, and again at The Anthem in Washington D.C.

 

Born and raised in rural Massachusetts and currently living in Brooklyn, NY⁠, Eliza Edens weaves together disparate influences of people and place into her work to create mesmerizing sonic tapestries with guitar and voice. With a love for tinkering with alternate tunings à la Nick Drake, a curious harmonic ear from years of childhood classical piano lessons, and an ever-expanding affinity for words and stories, Edens' songs build a kaleidoscopic world that documents the parallels between hope and heartbreak. The resulting sound is a diverse palette of guitar-based, experimental folk-rock centered around Edens gently cradled voice and brimming at the edges with pockets of sonic whimsy. Edens is due to release her sophomore album We'll Become the Flowers on October 14th.

Mariel May, / Atlantic Collective Jan 22

7:00 Door 7:30 Show $12.00 suggested donation

New York native Mariel Mayz is a sought-after composer, pianist, educator, and administrator. She has been commissioned by American Opera Projects, the Hunter Opera Theater, Latin Grammy nominee João Luiz, and many others. Mariel is an Adjunct Professor of Music Theory and lecturer for the Arts Management & Leadership Certificate at CUNY Hunter College and pursuing a PhD in Composition and Theory at Brandeis University. She serves as the Co-Founder and Associate Director of Porto Pianofest based in Porto, Portugal. She will be presenting the music from her debut album Cuban Sketches for Piano, which was released in September 2022 by the ZOHO music label. The album features premiere recordings of the piano music of legendary Cuban composer Leo Brouwer, as well as original compositions and arrangements.

Atlantic Collective is an adaptive, flexible chamber ensemble performing concert music that explores social and cultural themes. Formed during the COVID-19 pandemic, each musician has worked collaboratively or professionally with one another in various classical, contemporary, and pop music settings. As an ensemble, Atlantic Collective seeks to invigorate classical and contemporary repertoire by performing works from around the globe that illustrate our common humanity. Atlantic Collective's varied instrumentation allows for performances to be a multi-sonic experience, drawing the listener in with an array of voicings and textures on a single program. Tonight, the collective

 presents "Mixtape", a collection of short works and movements in a variety of instrument configurations reflecting the mood of the times. It's like your iPod shuffle has started working again and has come to life in concert form.

JP Schlegelmilch • Andrew Munsey

7:30 Door 8:00 Show $12.00 suggested donation

 

JP Schlegelmilch is a pianist, composer, and improviser originally from New Hampshire now living in Brooklyn. Since arriving in New York he has performed with a wide range of musicians in the jazz and experimental music world. His 2019 album "Visitors" with drummer Jim Black and guitarist Jonathan Goldberger was widely acclaimed and mentioned on Rolling Stone's "Best Jazz Albums of 2019".  For this new acoustic trio JP has written music exploring churning minimalist textures, boogie-woogie, and classical counterpoint. 

Drummer Andrew Munsey leads a quartet of musical brothers featuring Ochion Jewell (saxophone), Amino Belyamani (piano), and Sam Minaie (double bass). Munsey's music navigates the modern and geometric contours of groove while making room for free exploration along the way. His work has been described as "rich in invention and unexpected twists and turns" (San Diego Union-Tribune), displaying a "robust individuality both as a player and composer." (All About Jazz). 

Rachel Sumner / Brittany Ann Tranbaugh Jan 27

7:30 Door 8:00 Show $12.00 suggested donation

   

With songs as sweet and biting as the nectar and venom in her voice, Rachel Sumner has been captivating audiences throughout the northeast with her Boston based string band, Traveling Light. While their instrumentation and textures show roots deep in bluegrass and traditional folk music, Sumner's lyric-forward writing and penchant for snaking chord progressions demand something beyond folk conventions, highlighting the acrobatic range of her brilliant bandmates Kat Wallace (fiddle/harmonies) and Mike Siegel (upright bass).

Brittany Ann Tranbaugh is a songwriter from Philadelphia, PA. Her queer country song "Kiss You" won Song of the Year in the 2021 John Lennon Songwriting Contest.

Katy the Kyng• Jesse In Gray • Wish Wish Jan 28

7:30 Door 8:00 Show $12.00 suggested donation

 

Katy the Kyng is a February Aquarian who believes in the guitar solo, the love poem, the snide aside, the double entendre, the prom dress, and the journey to the center of things. She hopes to combine all of the above in her work.

Jesse in Grey is the songwriting project of Brooklyn based multi-instrumentalist Jesse Bielenberg. One could call his music folk, or rock, or even slowcore, but he likes to think of it as comfortcore. Jesse has two EPs under his vegan leather belt, with songs ruminating on trees & television & domesticity & growing up & the grey in-between spaces of uncertainty. Jesse will be joined by Connor Parks on drums/percussion, & Daniel Durst on bass.

WishWish features the songs of drummer and vocalist Rachel Housle.  Reaching into the space between the abstract and the familiar, pop melodies mingle with country-inflected slide guitar and a punk spirit.

Michael Sarian / Amir El-Saffar Jan 29

7:30 Door 8:00 Show $12.00 suggested donation

 

Trumpeter and composer Michael Sarian has been praised for his "unique compositional and instrumental voice… reminiscent of [his] lyrical contemporaries such as Ralph Alessi, Ambrose Akinmusire or Avishai Cohen." (Friedrich Kunzmann, AAJ) Born in Toronto and raised in Buenos Aires, Michael relocated to NYC in 2012, and has performed at some of the most iconic international stages, including the Montreux Jazz Festival, the Kennedy Center, Teatro Colón in Argentina, the Blue Note Jazz Club, Jazz at Lincoln Center, BRIC JazzFest, and Central Park SummerStage. He has appeared on WNYC's Soundcheck with John Schaefer, NPR's World Cafe, and many more.

Amir ElSaffar has been described as "uniquely poised to reconcile jazz and Arabic music," (the Wire) and "one of the most promising figures in jazz today" (Chicago Tribune). ElSaffar has created techniques to play microtones and ornaments idiomatic to Arabic music that are not typically heard on the trumpet. He is also one of the few musicians in his generation to master the centuries-old Iraqi maqam tradition, which he performs actively as a vocalist and santur player, merging it with contemporary Western harmony. ElSaffar has received the Doris Duke Performing Artist Award, a US Artists Fellowship, and a Hodder Fellowship at Princeton University.

Zahra Alzubaidi • Leila Adu Feb 2

7:30 Door 8:00 Show $20.00 suggested donation

 

Zahra Alzubaidi is a New York based Iraqi vocalist who performs a variety of Arabic styles, with a focus on Iraqi music. She has performed as a featured artist in multiple music venues throughout the US, and as a guest/chorus with ensembles.

Leila Adu is an astonishing force in the space where electropop, avant-classical and singer-songwriter meet. Exploring her roots in New Zealand, Britain and Ghana, Adu is an international artist who has performed at festivals and venues across the world. Compared to Nina Simone and Joanna Newsome by WNYC, Adu has released five acclaimed albums, and has given visionary solo BBC and WQXR performances. Adu's credits include Ojai Music Festival, Bang on a Can, the New Jersey Symphony Orchestra, Late Night with David Letterman, and composing for a Billboard charted album. Adu holds a Princeton University music composition PhD. In 2022, Leila Adu–Gilmore has been awarded a Charles Ives Composer Fellowship's from the American Academy of Arts and Letters.

Alec Spiegelman, Izzy Oram Brown, Good Intentions Feb 3

7:30 Door 8:00 Show $12.00 suggested donation

   

Alec Spiegelman

is a multi-instrumentalist, producer & songwriter living in Brooklyn, NY. He will be improvising, on clarinet & with pedals, in conversation with a piece of software called the Echolaliator, by Eric Rosenbaum. Alec says, 'here's Eric's explanation of the software: 

https://www.ericrosenbaum.com/echolaliator

and here's me playing along with it:

Izzy Oram Brown is a Brooklyn based guitarist and songwriter who released her debut record Mess on September 23, 2022. Created with a host of collaborators in various spaces around New York over the past two years, Mess finds Oram Brown drawing on her work as a guitar player and her love of the folk song tradition to create her first project as a songwriter. She pairs introspective lyrics and winding melodies with layered guitars, synthesizers, and percussion to create an ethereal and moving body of work. Grounded in precise songwriting and embellished with experimental production, Mess is Oram Brown stepping out from a supporting role and sharing an assured album of naked honesty.

 

Good Intentions is a fuzzy five piece instrumental rock band that sends you heartfelt melodies, like a mixtape made for your high school crush. They release their first single, "Songe" on February 3rd, from their upcoming album release, "Devotion Comes Easy to Me."  Sam Decker: saxophone. Gregg Belisle-Chi: guitar. Franky Rousseau: guitar. Luke Bergman: bass. Dave Flaherty: drums  

Colin Babcock • Nick Pauly • Gregory Michael Jordan Feb 4

7:30 Door 8:00 Show $12.00 suggested donation

   

Nick Pauly is a violist, composer, and improviser from Brooklyn, NY. After completing his M.M. from Manhattan School of Music, he served on faculty at the Third Street Music School from 2015 to 2021. A contemporary music enthusiast, Pauly focuses on extended techniques for strings, including performance with household objects and alternative tunings. Recent work features structured improvisation for singing bowls, waterphone, and viola.

Colin Babcock is a Trombonist, Composer, Improvisor, and Teacher living in New York City, originally from Columbus, Ohio. He regularly performs most genres of music, including classical, jazz, pop, electronic, free improvisation, and everything in between. He has performed with the Stormin' Norman Band, Park Avenue Chamber Symphony, So Wrong It's Right, SEM Ensemble, Brownstone Brass Quintet, various musical theater shows, numerous big bands and brass bands across the city and more. His 2020 album "Circle" and other original music encapsulates his diverse influences. He is a teacher with the Brooklyn Conservatory of Music in the Music Partners division.

Gregory Michael Jordan writes and records orchestral pop out of his bedroom. Live, he is accompanied by a five-piece string and wind ensemble who bring his lush and sweeping arrangements to life. Songs about epilepsy, Judaism, and professional wrestling are all brought to you with a stunning combination of piano, orchestra, and uninhibited vocal affectation. Greg bounces between universes, going from imagining up fictitious characters to touching on the deeply personal. After a decade of playing shows and recording preliminary demos, Greg is releasing his first studio album in 2023. February 3rd at The Owl, Greg will be celebrating the release of his first single, Prom, as well as his 29th birthday.
---
on instagram @theowlbk ♫? #theowlbk
AVAILABLE FOR RENTAL